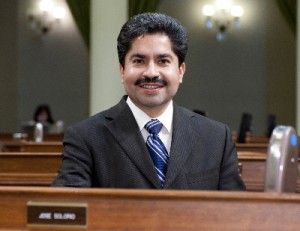 For Immediate Release: January 12, 2012
For More Information Contact: Carol Chamberlain – office: (916) 319-2069, mobile: (916) 804-5355
State Assemblyman Solorio Co-Authors Legislation to Slow Down Demise of Redevelopment Agencies
Huge need for affordable housing and local economic development tools justifies urgency legislation
SACRAMENTO – State Assemblyman Jose Solorio (D-Anaheim), in an effort to wind down redevelopment agencies in a deliberate and responsible way and to not force them to immediately liquidate assets, has signed on to urgency legislation that would accomplish those feats.
"The Legislature agreed to phase out and reconstitute redevelopment agencies, but it was not our intention to completely shut down local economic development and affordable housing efforts forever," says Solorio. "There are many communities in California, including my Central Orange County district, that have a huge need for affordable family housing and job creation tools. Those types of projects should continue."
SB 659, authored by Senator Alex Padilla and co-authored by Senator Ed Hernández and Assemblyman Solorio, would extend the February 1, 2012 deadline imposed by the California Supreme Court for redevelopment agencies to shut down operations throughout California. SB 654, authored by Senate Leader Darrell Steinberg, is a bill intended to preserve the roughly $2 billion in low and moderate income housing funds maintained by redevelopment agencies and allow them to continue to be used for affordable housing. Other bills may soon surface to address the void left by redevelopment agencies, including possibilities to provide cities and counties with new economic development, infrastructure and job creation tools.
"We need time to create new instruments for local governments to provide quality affordable housing for our residents," Solorio said. "And economic development programs generate jobs. As we try to recover from this great recession, now is not the time to walk away from solid projects that have been years in the making."
Authorized by law since 1945, redevelopment agencies have been responsible for many economic development success stories throughout the state.
State Assemblyman Jose Solorio is the Chair of the Assembly Insurance Committee and also serves on the Assembly Appropriations and Transportation committees. He represents the Sixty-Ninth Assembly District, which includes the cities of Anaheim, Garden Grove, and Santa Ana. For more information about Assemblyman Solorio, visit www.assembly.ca.gov/solorio.