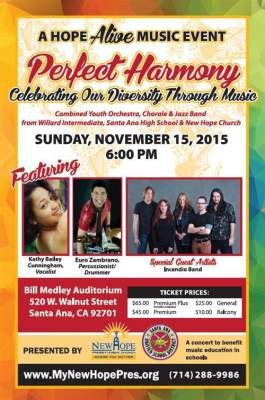 FOR IMMEDIATE RELEASE: November 13, 2015
Contact: Deidra Powell, Chief Communications Officer , deidra.powell@sausd.us, (916) 534-6559
The Hope Alive Perfect Harmony Concert is set for November 15, 2015, at 6 pm, at the Bill Medley Auditorium, located at Santa Ana High School, at 520 W. Walnut St., in Santa Ana.
This event supports keeping music in the schools by raising funds for music education in Santa Ana. This benefit concert brings the diversity of our community together for an evening of music exploration around the globe as world-class musicians are paired with aspiring youth artists from diverse backgrounds.
Music students from Willard Intermediate, Santa High School, and the surrounding community will have the rare opportunity to perform on stage in a symphony led and directed by local conductors Ammy Beltran, Reggie Goodjoin, Lesa Terry, Joseph Kaye and Victor De Los Santos. This eclectic mix of conductors and music instructors with varying styles and backgrounds expose the youth artists to a variety of musical genres and cultures that they do not learn in their regular school music programs.
Through New Hope Presbyterian Church's partnerships with the Santa Ana Unified School District and other community organizations and businesses, Hope Alive! has grown to be an exemplary model of how community driven initiatives can help bridge the gap for our young people in the midst of tough economic times.
Featuring:
• Incendio Band
• Legendary Percussionist Euro Zambrano
• Lesa Terry, world-class violinist with classical, Broadway and television credits
• 30 Piece Youth Orchestra plus Santa Ana High School Jazz Ensemble
• Youth Chorale and New Hope Choir
When: Sunday, November 15, 2015, from 6 p.m. – 8 p.m.
Where: Santa Ana High School's Bill Medley Auditorium
520 W. Walnut Street, Santa Ana, CA 92701
Tickets: Balcony $10, General $25, Premium $45, Premium Plus $65 (includes a pre-concert meet and greet reception with the artists).
Purchase tickets online: www.MyNewHopePres.org, or call: 714-288-9986.
###