Fast and Furious 7 is coming out soon in April but tonight we had a preview of it here in Santa Ana.  A custom high performance Mercedes-Benz automobile on a road test crashed tonight into a building belonging to Cresta Verde Landscape in Santa Ana.
The fiery crash was captured on video by one of our readers, Anthony Monks, who shared the footage and a few pictures with us.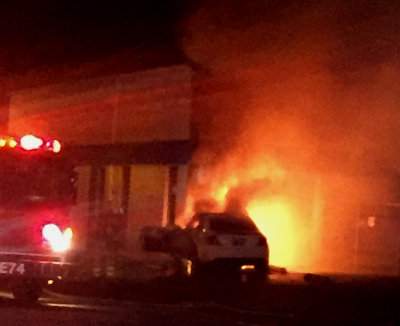 Cresta Verde Landscape is located at 1759 East Borchard in Santa Ana.  The high performance car that crashed was apparently from Weistec Engineering.
Weistec specializes in tuning and design, and they are the leader in fast and reliable parts and accessories for the Mercedes AMG, according to their Facebook page.
The driver had a possible broken ankle and an arm injury.  He was taken away by ambulance.