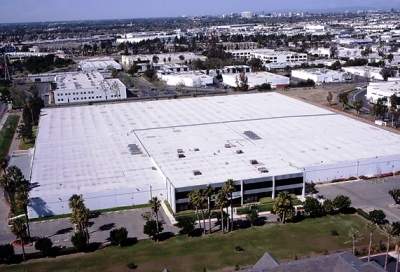 Have you wondered how in the world Santa Ana Councilman David Benavides and his sidekick, Roman Reyna, who is an ill-advised Mayoral candidate this year, are funding their respective political campaigns?  As we saw in 2012, the high density apartment developers are backing these guys – often in the form of secretive Independent Expenditures – and this time they have a distinct objective in mind.  Put simply, the developers are trying to buy their votes.
At stake is the property at 2001 East Dyer Road, which is on Santa Ana's East side, on the border of Tustin.  This land is currently zoned for industrial use but the developers who recently bought this land are requesting that the City of Santa Ana re-zone their (approximately) 18 acre property from industrial to residential development (high density apartments).
Does anyone in Santa Ana want more high density apartments in our city – along with the traffic they will bring – plus significant impacts on our local public school district, the SAUSD?  Not to mention the impact they would have on our scarce water supply and utilities.
The reason that these developers are seeking this rezoning is to gain a windfall of approximately between $60 and one hundred million dollars.
This proposed rezoning will cost the City of Santa Ana millions of dollars to pay for City services necessary to accommodate the new apartment dwellers and will burden the City with a structural deficit of costs in excess of revenues that will go on forever, as the residential zoning they seek will not cover the City's costs to provide services for their residential rezone scheme.
Effectively, the property owners and their consultants seek to "dine and dash", taking millions of dollars from the City and leaving the City with their legacy, a zoning which provides far less revenues (as compared to industrial and commercial uses) and requires more City services, when built out then does the current zoning.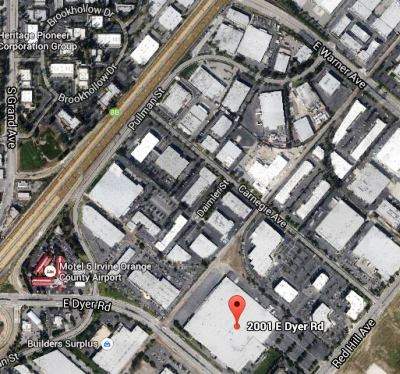 Picture Courtesy of Google Maps
The Santa Ana City Council should of course decline this insane proposal. Santa Ana has more than enough existing residentially zoned land within its borders (10,216 acres, a full 58.7% of the land in Santa Ana) in areas better located to support additional residential development. On the other hand, Santa Ana only has 2,481 acres (only 14.3% of its land) zoned for industrial/commercial purposes that are well-paying employment and tax generating uses.
The re-zoning application will, if granted, take just under 1.4% of the entirety of Santa Ana's productive industrially zoned land in one fell swoop.
The rezone request is a recipe for:
lower City revenues,
escalating costs of City services,
spot zoning,
Not to mention the specter of residents going to and from apartments while dodging heavy trucks delivering their payloads to adjacent industrial and commercial facilities.
This area of the City is entirely industrial, manufacturing or commercial (hotel or professional offices) and is separated from the rest of the City of Santa Ana by the 55 Freeway. Rezoning any property in this area to residential would burden the businesses that support the City with thousands of residents with whom they never bargained contending. It would also stretch the City to provide the new residents with required enhanced services to the absolute outer edge of the City's limits. There is not one valid reason to justify the City approve this spot rezoning!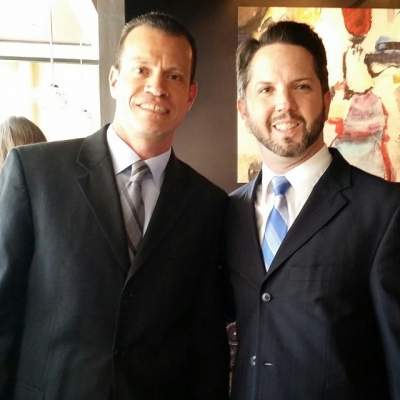 Pictured : Santa Ana Councilman David Benavides and his Planning Commissioner, Phil Bacerra
Members of the Urban Land Institute, the most prominent and non-partisan land use organization in the United States, have studied revenues to a City produced by commercial/industrial land uses verses revenues produced by residential land uses and have also studied the costs of providing City services to commercial/industrial land uses and the costs of providing City services to residential uses.
The studies  show that not only is residential land a net drain on local government budgets but the drain can be horrific.
The average ratio/factor for residential zoned land ranges from 1.15 to 1.50, meaning that a City is spending up to 50% MORE on City services than it collects from residential uses! On the other hand, for commercial/industrial uses, the ratio usually ranges from 0.35 to 0.65, indicating that for every dollar collected the local government provides only 35 to 65 cents worth of services.
Stated by another professor studying the issue, "While residential development brings with it new tax (and fee) revenue, it also brings demand for local government services. The cost of providing these services exceeds the revenue generated by the new houses in every case studied…"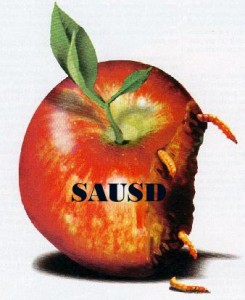 But For Santa Ana, IT'S EVEN WORSE, in affect it is taking away from the children!  According to COCS studies the largest singly expenditure for communities is the public school system, which accounts for, on average, 61 +% of public spending. In the case of Santa Ana, the public school system is already struggling to produce a decent education for the children who attend. Over half of SAUSD's high schools do "not achieve CA goal."  Its high schools rank in the bottom 11% and its elementary schools rank in the bottom 16%. These factors, with the double-whammy of changing a significant land area from industrial uses to residential uses all but ensures reduced spending on education (not to mention an increase on spending for police services) and further burdening those members of the community that cannot yet speak for themselves as they are not yet of age.
Still another authority concludes, "residential development in any area invariably leads to increase per capita demand for publicly provided services, placing increased burdens on local infrastructure and public agencies."
This results in increased local taxes to fund additional services. As described above, Santa Ana has 10,216 acres of land already zoned for residential development. This land is located in areas of the City where the cost of City services is far less than providing those services to an industrial area, on the outskirts of the City and adjacent to Tustin.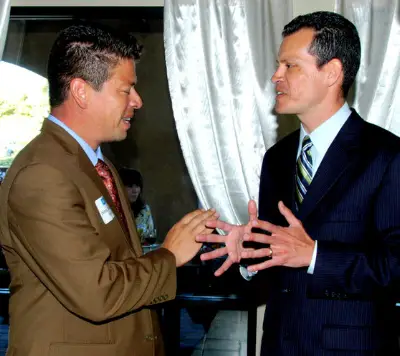 Santa Ana Councilmen Roman Reyna and David Benavides
The question for Santa Ana Planning Staff, Planning Commissioners and ultimately City Council Members is why they would possibly allow further erosion of the City's fragile economic base to allow a developer (whose members have made political contributions) the opportunity to make tens of millions with a residential project when the City has thousands of acres in its borders, including many in areas which can clearly support upscale residential developments? This trade off seems to provide no appreciable benefits to Santa Ana while the developer and its partners literally high five each other in their drive from the property to the bank.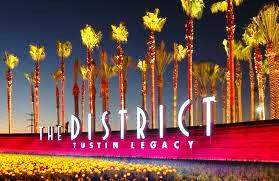 Another frightening fact which would accompany the re-zoning of 2001 East Dyer Road – Santa Ana will not get the sales tax revenues – Tustin will!
Many other areas in Santa Ana have residential uses near or somewhat near retail uses in Santa Ana. As a result, people living in Santa Ana are geographically induced to spend their retail dollars in Santa Ana. This is contrary to what will happen if 2001 East Dyer Road is re-zoned to allow apartments. There is no shopping immediate to 2001 East Dyer located in Santa Ana. What is conveniently located nearby is, The District". Unfortunately, The District is located in the City of Tustin, not in Santa Ana.
Stated in other way, the developers of 2001 East Dyer Road are asking Santa Ana to allow them to take the residents of 1000+/- units who might otherwise live elsewhere in Santa Ana (and thereby purchase goods in Santa Ana) and put them on the border with Tustin where Santa Ana has to support these residents with City services but all of the tax revenues generated from their retail purchases will escape to Tustin or other communities. Now that is crazy!
Also crazy would be voting for Reyna for Mayor or Benavides for the City Council.  Their votes are already sold – and what they are planning to do will be a terrible thing for Santa Ana's residents and bottom line.