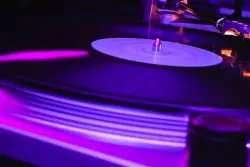 FOR IMMEDIATE RELEASE: August 18, 2010
CONTACT: JENN STARNES, 949-724-6574
Find Your Groove at the Great Park Weekend dance and music featuring Celebrity DJs and Korean Break-Dancing Acrobats
IRVINE – Hollywood's hottest DJs and the world's hottest dancers heat up the Great Park this weekend as Flights & Sounds Summer Festival celebrates contemporary dance. Join in the fun as DJ Casey Conner and DJ Hapa move the turntables and rock the crowds. Then, catch the acrobatic moves of Korean b-boying break-dancing sensation Last for One.
It's a DJ House Party at the Orange County Great Park on Friday, August 20thth at 8:00 p.m. where you will want to dance to the beats of today's most in-demand DJs. DJ Hapa has rocked the hottest clubs and events across the world, and is the DJ for the KTLA morning show. DJ Casey Conner's dynamic approach to spinning the turntables has made her one of the most sought after celebrity DJs in Hollywood. Come early and get ready to dance with a little help from Great Park dance instructors at 7:30 p.m. DJs start spinning at 8:00 p.m.
Come back to the Great Park on Saturday, August 21st at 8:00 p.m. to see Last for One, the Korean hip-hop break dancing crew that has helped bring mainstream attention to an underground art. Last for One are the winners of the 2005 International Battle of the Year, and have since become internationally recognized b-boy kings.
Before Saturday's performance, visitors can enjoy the Great Park Comedy Corner at 7:00 p.m. featuring Dante with special guests Rebekah Kochan and David Marley. Admission to Flights & Sounds Summer Festival dance and concert series is free, and parking is just $10.
Upcoming 2010 summer performers include a wide variety of first-rate artists, featuring five-time Grammy Award-winning Blind Boys of Alabama, local surfing champion and artist Donavon Frankenreiter, Hector del Curto's Eternal Tango Quintet and Big Sandy and His Fly-Rite Boys.
Flights & Sounds Summer Festival is presented by the Orange County Great Park Corporation in partnership with Irvine Barclay Theatre. Concertgoers can watch the show from chairs provided in a temporary concert pavilion or bring their own chairs to listen to the music from the Great Park Lawn.
Before each performance, Hangar 244 is transformed into the Hangar Café, a lounge-like dining area serving up everything from snacks to full dinners, along with refreshments. The menu features themed items inspired by the global mix of musicians, and visitors can choose to also pre-order their picnics by visiting www.ocgp.org.
The Orange County Great Park is located off the 405 or 5 Freeways at Sand Canyon and Marine Way in Irvine. Admission is to Flights & Sounds Summer Festival dance and concert series is free, and parking is just $10.
The Orange County Great Park with its 1,347-acre master plan is the focal point of the redevelopment of the 4,700-acre former Marine Corps Air Station, El Toro. The Great Park is currently 27.5 acres and includes an iconic tethered helium balloon that rises 400 feet in the air, providing an aerial view of Park development. A $65.5 million development plan to expand the Park to 200 acres is currently underway. The plan will build out a core section of the Park for the most immediate and wide-ranging public benefit, including a sports park, agricultural area and an art and culture exhibition space.
For the entire festival line-up and more information, go to www.ocgp.org.
####