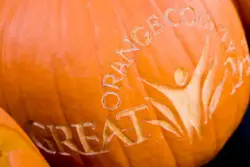 FOR IMMEDIATE RELEASE: OCTOBER 21, 2010
CONTACT: JENN STARNES, 949-724-6574
Great Park Pumpkin Harvest Brings Launch of Carousel
Event will feature scarecrow contest, petting zoo, costume parade and more.
IRVINE – This Saturday, visitors to the Great Park Pumpkin Harvest will get an early Halloween treat. People of all ages will be able to take a ride on the new Great Park Carousel, which will make its official public debut.
The updated 38-foot Carousel, which was formerly located in Fashion Island, features new hand painted panels depicting Orange County's heritage. The popular annual Pumpkin Harvest event has also expanded to include Scarecrows in the Park, a contest for local businesses to create and display themed scarecrows.
"The new carousel ride will be a fun year round activity for Great Park visitors of all ages to enjoy," said Larry Agran, Chair of the Orange County Great Park Corporation. "Not only can visitors come fly in the Balloon and play on Kids Rock, now they will be able to take a ride on the Great Park Carousel."
The Great Park Pumpkin Harvest also serves as a community food drive benefiting the Orange County Food Bank and the Second Harvest Food Bank. Visitors are encouraged to bring canned goods to help those in need and will be entered into a raffle to win one of a several prizes donated by local businesses, including the Irvine Barclay Theatre, PF Chang's, the Bowers Museum and Pacific Symphony.
While at the Pumpkin Harvest, families will experience the time honored tradition of fall activities, including a pumpkin patch, pumpkin decorating, petting zoo, horse drawn wagons, train rides, costume parade, candy stations, and mini hay maze. Children will receive a free pumpkin, while supplies last.
Visitors are also invited to vote for their favorite creation for Scarecrows in the Park, which benefits Second Harvest Food Bank and agricultural programs at the Great Park.
"Scarecrows in the Park" is a new way for us to enhance our agricultural programs and to raise funds for local food banks," said Mike Ellzey, Chief Executive Officer of the Orange County Great Park Corporation. "Many local companies and organizations participated in the contest, raising thousands of dollars for these important programs. We look forward to featuring even more scarecrows next year."
More than 6,000 visitors are expected to attend the Pumpkin Harvest, which will take place on Saturday, October 23, 2010 from 10:00 a.m. to 3:00 p.m. at the Orange County Great Park. Admission is free. Parking is $10.
The Orange County Great Park, with its 1,347-acre master plan, is the focal point of the redevelopment of the 4,700-acre former Marine Corps Air Station, El Toro. The Great Park is currently 27.5 acres and includes an iconic tethered helium balloon that rises 400 feet in the air, providing an aerial view of Park development. A $70 million development plan to expand the Park to 200 acres is currently underway. The plan will build out a core section of the Park for the most immediate and wide-ranging public benefit, including a sports park, agricultural area and an art and culture exhibition space.
The Great Park is located off the 5 Freeway and Sand Canyon in Irvine. For more information, go to www.ocgp.org or telephone (949) 724-7420.
###