The deadline is near for the first round of Arts Relief Grants for local artists and arts-related nonprofit organizations provided by the Santa Ana CARES program. Apply by Sept. 16!
Santa Ana-based arts nonprofits can receive grants of up to $50,000, and individual artists who live in Santa Ana can receive a grant of $1,000.
These grants are for artists and arts-related organizations whose primary mission is artistic in nature. They must demonstrate that they were financially impacted by COVID-19 and be able to receive federal funding.
For arts-related businesses with 25 or fewer full-time employees (including owners), please apply to the Santa Ana CARES Small Business Assistance Grant for up to $10,000.
For the full list of requirements and to apply, go to https://charitableventuresoc.org/city-of-santa-ana-covid19-relief-program/.
Find more information on all of the Santa Ana CARES assistance programs at www.santa-ana.org/CARES.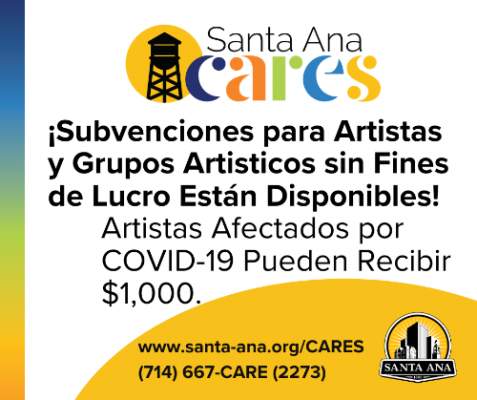 Subvenciones para Artistas y Organizaciones Artísticas Sin Fines de Lucro
Se acerca la fecha límite para la primera ronda de Subvenciones de Ayuda para las Artes para artistas locales y organizaciones sin fines de lucro relacionadas con las artes proporcionadas por el programa CARES de Santa Ana. ¡Presente su solicitud antes del 16 de septiembre!
Las organizaciones artísticas sin fines de lucro con sede en Santa Ana pueden recibir subvenciones de hasta $50,000, y los artistas individuales que viven en Santa Ana pueden recibir una subvención de $1,000.
Estas subvenciones son para artistas y organizaciones relacionadas con las artes cuya misión principal es de naturaleza artística. Deben demostrar que se vieron afectados financieramente por COVID-19 y poder recibir fondos federales.
Para empresas relacionadas con las artes con 25 o menos empleados a tiempo completo (incluidos los propietarios), solicite la Subvención de Asistencia para Pequeñas Empresas CARES de Santa Ana por hasta $10,000.
Para obtener la lista completa de requisitos y solicitar, vaya a https://charitableventuresoc.org/city-of-santa-ana-covid19-relief-program/.
Encuentre más información sobre todos los programas de asistencia CARES de Santa Ana en www.santa-ana.org/CARES.