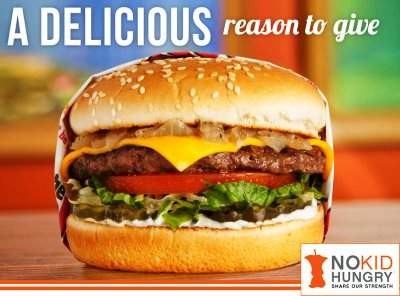 On Sept. 18, 2015 a food truck operated by Irvine-based Habit Burger Grill will be offering a $5 meal special to benefit the nonprofit Share Our Strength. The Habit Truck will set up in the visitor parking lot of The Orange County Register from 11 a.m. to 2 p.m. serving $5 combo meals that include a charburger with cheese, fries and a drink. Other entree options will include a gluten-free lettuce wrap and veggie burger, according to the O.C. Register.
Habit officials said 100 percent of all funds will go to Share Our Strength's No Kid Hungry campaign, a nationwide effort to wipe out childhood hunger in the United States by educating families on how to cook healthy, affordable meals at home.
Habit Restaurants, Inc. has also launched a partnership with No Kid Hungry in which guests are encouraged to donate at the register and, in return, receive a certificate to enjoy a complimentary Charburger with cheese on their next visit through October 14, 2015.
The campaign, which will run nationwide at participating* Habit Burger Grill locations between August 26 and September 30, 2015, addresses the serious issue of childhood hunger in the United States where 1 in 5 children cannot count on their next meal. During the campaign guests at The Habit who donate $2 to No Kid Hungry, a national campaign from the nonprofit Share Our Strength, will receive a certificate for a free Charburger with cheese good on a future visit.
The Habit/No Kid Hungry partnership will raise funds from 120 Habit restaurants nationwide and donations will directly support No Kid Hungry's mission to wipe out childhood hunger in the U.S. by connecting kids in need with nutritious food and teaching families how to cook healthy, affordable meals.
"Childhood hunger in America is something we take seriously," said Russ Bendel, chief executive officer at The Habit Burger Grill, an Irvine, Calif.-based restaurant company. "Since 2010, The Habit has partnered with No Kid Hungry by donating 100 percent of the proceeds from pre-opening lunches and dinners at more than 20 of our grand openings. We are honored and humbled to take this effort to the next level and help keep our nation's children healthy."

"We applaud The Habit for stepping up to make a difference that will have an incredible impact," said Debbie Shore, co-founder of Share Our Strength. "We need to have strong children in order to have a strong nation. Every donation can make a difference and just $1 can provide a child with up to 10 healthy meals."
For more information, visit www.habitburger.com. The Habit is also found on social media at www.facebook.com/habitburger, http://instagram.com/habitburgergrill, https://twitter.com/habitburger and www.youtube.com/habittube.
About The Habit Restaurants, Inc.
The Habit Burger Grill is a burger-centric, fast casual restaurant concept that specializes in preparing fresh, made-to-order chargrilled burgers and sandwiches featuring USDA choice tri-tip steak, grilled chicken and sushi-grade albacore tuna cooked over an open flame. In addition, it features fresh made-to-order salads and an appealing selection of sides, handmade shakes and malts. The Habit was named the "best tasting burger in America" in July 2014 in a comprehensive survey conducted by one of America's leading consumer magazines. The first Habit Burger Grill opened in Santa Barbara, California in 1969 and has since grown to 120 restaurants in 12 markets throughout California, Arizona, Florida, Nevada, New Jersey, and Utah. More information is available at  www.habitburger.com.
About No Kid Hungry
No child should go hungry in America, but 1 in 5 kids will face hunger this year. Using proven, practical solutions, No Kid Hungry is ending childhood hunger today by ensuring that kids start the day with a nutritious breakfast and families learn the skills they need to shop and cook on a budget. When we all work together, we can make sure kids get the healthy food they need. No Kid Hungry is a campaign of national anti-hunger organization Share Our Strength. Visit NoKidHungry.org.