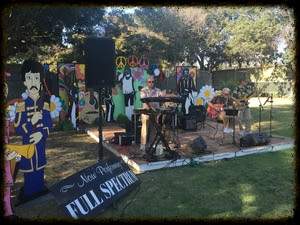 Zoo "After Hours" Summer Concert Series
Sundays, July 9, and July 23 at 5:30 – 7:30 pm
Summer, Outdoor Concert Series featuring popular local bands.
Zoo After Hours… visit the animals in this rare after-hours experience as they prepare for their nighttime activities.
Members save close to 50% on after-hours admission & close to 20% on rides!
Pack your own picnic dinner OR purchase BBQ & dessert.
Cool decorations by RWB Party Props, animal encounters, kids crafts, train & carousel rides, and a silent auction. Bring your camera for some great photo opportunities!
Local craft breweries "beer tasting" for an additional $15 donation for adults 21 and over raising funds to help the Zoo!
Sunday, July 9, 5:30 – 7:30 pm
Featuring: Full Spectrum (60's – 70's)
Tasting: The Bruery, Bootlegger's, Left Coast
Sunday, July 23, 5:30 – 7:30 pm
Featuring: The Fenians – Acoustic Trio (Celtic rock)
Tasting: Gunwhale, Good Beer, Four Sons
Prices listed are per Event:
$16.95 per person or only $8.95 per Zoo Member (children under 3 are free)
Become a Member today: www.santaanazoo.org/membership.htm
New online purchased members can bring their e-mailed Purchase Confirmation to receive their discount.
Avoid the line and purchase your admissions online before 5pm Friday: www.santaanazoo.org/sunsets.htm…or buy your admissions at the gate.
See you here Sunday!
Daily Zoo Hours:
*  Gates Open – 10am
*  Gates Close – 4pm
*  Grounds Close – 5pm
Admission:
*  Members – FREE
Call (714) 836-4000 for General Admission Pricing
Rides:
*  $1.50 per ticket
*  Train – 3 Tickets
*  Carrousel – 2 Tickets
*  M – F: 11a – 3p
*  S, S:  11a – 4p