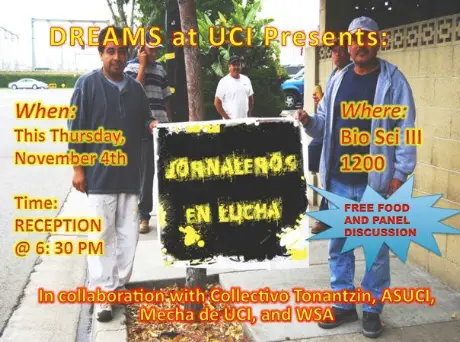 Free screening of the new documentary, Jornaleros en La Lucha (Part 1) tonight at UCI, at Bio Sci III, 1200, at 7 pm.  FREE MOVIE AND FOOD. Absolutely free!  Enjoyment is priceless.
EYE OPENING FILM presented by ASUCI, Dreams At UCI, Umbrella Council, and Orange County Dream Team
In the context of the passing of SB1070 in Arizona and other anti-migrant laws in cities throughout the nation such as Costa Mesa, and the student struggle for the Dream Act as a Stand Alone Bill, Jornaleros en Lucha (Part One) is a documentary that depicts the struggle of day laborers in the cities of Orange and Costa Mesa located in Orange County. The film documents the obstacles and struggles of day laborers as they try to organize into a collective in order to fight anti-day laborer ordinances in these cities and establish safe-corners or sites where they can congregate and provide their labor without fearing police harassment.
About the Collective that produced the Film: The film was produced by Collectivo Tonantzin. The collective does work with day laborers in Orange and Costa Mesa as well as with youth and cop watch collectives in Orange County and L.A.
Mission Statement: We are a collective that struggles for justice, equality, dignity, and respect for all. We struggle for a community in which many communities can fit. We work to educate and raise consciousness about issues that affect our community as a whole. We promote education and subscribe to the principal of each one, teach one. We constantly work to educate ourselves and our community in a collective, non-coercive environment.
THIS THURSDAY, November 4, at 7 pm.
Bio Sci III, 1200
RSVP on Facebook by clicking here.