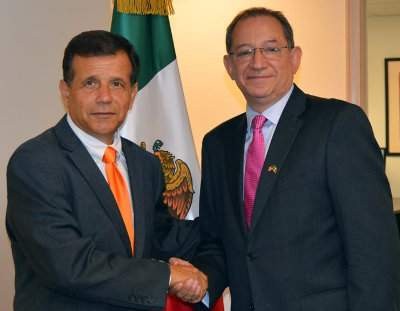 The Consulate of Mexico in Santa Ana invites the community to participate in a "Job Fair" which will be held on Thursday, September 3, 2015 from 8:30 am to 12:00 pm at their office, located at 2100 E. 4th Street, in Downtown Santa Ana.
Employers will accept job applications
Admission is free.
For more information: (714) 581-4952.
About Mario Cuevas, the Mexican Consul in Santa Ana
Born in Mexico City, Cuevas holds a Bachelor's Degree in International Relations from the National Autonomous University of Mexico (UNAM). He has also earned a Master's Degree in Diplomatic Studies from the Diplomatic Academy of Ministry of Foreign Affairs (IMR).
For the past 35 years, Cuevas has held positions in the Public Sector of Mexico, Including the International Affairs sections of the Ministries of Labor, Planning and Budget, Communications and Transportation, and Foreign Affairs.
He has worked for the Ministry of Foreign Affairs since 1981, where I worked for the Office of the Foreign Minister's Chief of Staff, and for the Bureaus of Technical and Scientific Cooperation, Latin America and the Caribbean, and Cooperation and Development with Central America.
As a 25 year member of Mexico's Foreign Service, he has held posts at the Permanent Mission of Mexico to the United Nations and Other International Organizations in Geneva, Switzerland; was Deputy Commissioner of Mexico for the 1986 World Exposition in Vancouver and director of the Mexican Pavilion. In Montreal, Canada, he served as Deputy Permanent Representative to Mexico's the International Civil Aviation Organization (ICAO) and at the Mexican Consulate; he also served as Head of Consular Protection at the Consulates of Mexico in San Diego, CA, and New York, NY; He represented Mexico and has as a delegate in various bilateral and multilateral conferences.
Cuevas took office as Consul of Mexico in Santa Ana on June 12, 2015.