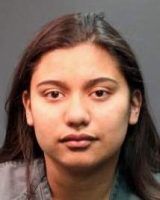 The man who was arrested early this morning by the SAPD after he barricaded himself inside a home at the 2200 block of South Oak St. has been identified as Victor Manuel Ramirez, 21, of Santa Ana, according to the O.C. Register.
Three other people were arrested in connection with the incident including:
Eric Velasco, 20, of Santa Ana. Arrested for weapons and gang related offenses.
Maria Luisa Retana, 18, Garden Grove. Arrested on weapons charges.
German Velasco, 46, of Santa Ana, (the father of Eric Velasco), was arrested for obstructing and preventing an officer from performing his duties. Velasco apparently helped Ramirez to barricade the house, but then he left the house and became uncooperative with the police officers, according to the SAPD.
Ramirez was booked into the Santa Ana Jail on several weapons and gang-related charges and because he was a parolee at large.
The barricade incident was a major inconvenience to the neighbors who were temporarily evacuated from their  homes.