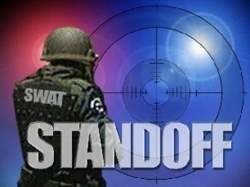 The unidentified man who barricaded himself at a home in Santa Ana, at the 2200 block of South Oak St., last night, was finally arrested early this morning after an SAPD SWAT team used tear gas and a flash-bang grenade to subdue the suspect, according to MyNewsLA.
The standoff started at about 6 p.m. on Memorial Day when SAPD police officers patrolling the area noticed the suspect allegedly carrying a weapon. He ran into the residence in question at that point, according to the SAPD.

The man remained barricaded until 2 a.m. this morning when the SAPD's SWAT team resorted to firing tear gas canisters and a flash-bang grenade into the home. That grenade is very loud and bright and it serves to distract suspects so SWAT teams can enter the building. That is exactly what happened in this case.
No one was injured, according to the SAPD. The suspect appeared to have been alone inside the house. The police are trying to figure out why the man barricaded himself and whether or not he had a weapon.