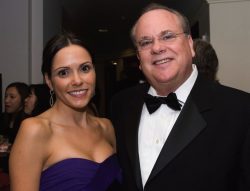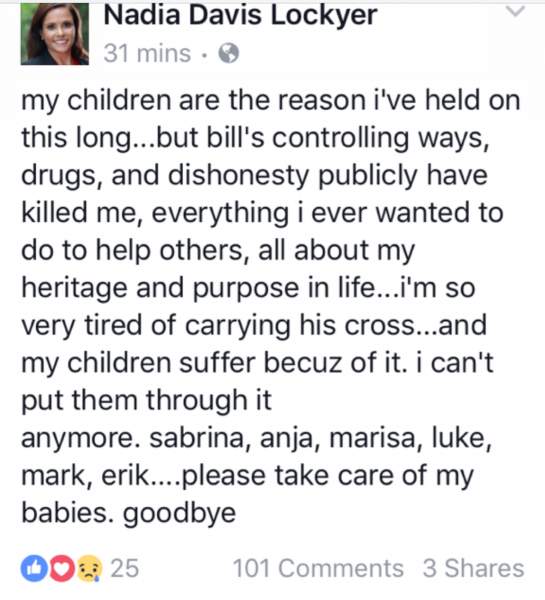 Former SAUSD Trustee Nadia Davis Lockyer posted a cryptic message two hours ago on Facebook that appears to hint that she might be considering suicide.
The message stated "my children are the reason i've held on this long…but bill's controlling ways, drugs, and dishonesty publicly have killed me, everything i ever wanted to do to help others, all about my heritage and purpose in life…i'm so very tired of carrying his cross…and my children suffer becuz of it. i can't put them through it
anymore. sabrina, anja, marisa, luke, mark, erik….please take care of my babies. goodbye"
Nadia married former California State Treasurer Bill Lockyer in 2003. He was born in 1941. He is 29 years older than Nadia. How in the world did anyone think this marriage was going to work out? He was old enough to be her father – and perhaps that is why she married him. They met at a Democratic Party event.
Nadia is the daughter of the legendary civil-rights lawyer Wally Davis, who had successfully argued the landmark 1968 California State Supreme Court case that Santa Ana's then-English-language achievement tests were inappropriate for Spanish-speaking students. The case ended wrongful placement of Latino children in classes for the mentally disabled because they scored poorly on tests written in a language they hadn't learned, according to the OC Weekly.
Nadia previously served as Executive Director of the Alameda County Family Justice Center. In January 2010, she was appointed to the Board of Governors of the California Community Colleges System by Governor Arnold Schwarzenegger. She was elected to the Board of Supervisors in the November 2010 election, but resigned her position in April 2012 while undergoing treatment in a rehabilitation center for chemical dependency after a highly publicized incident at a Newark hotel room in which she called police claiming her former boyfriend had assaulted her. In an interview with the San Jose Mercury News immediately after her resignation, Mrs. Lockyer explained previous statements she made concerning her addiction issues. After "initially claiming" her former boyfriend had "hacked into her email, she admitted she was the author of an email to a reporter" blaming her husband, then-California State Treasurer Bill Lockyer, for "buying and supplying her with drugs years ago — an allegation his office called "utterly false." Mrs. Lockyer said she "regretted" sending the message," and asked "the public not to hold anything against my husband for actions that happened a long time ago." Later that year, in August 2012, Mrs. Lockyer was arrested in Orange County , charged with felony methamphetamine possession. But the Orange County District Attorney subsequently dropped the charges, and Mrs. Lockyer then successfully completed an exhaustive rehabilitation program. She has since resumed the practice of law with a firm in Newport Beach, and lives in Long Beach with her husband, now in private law practice, and 11-year-old son Diego. (Source – Wikipedia)
Nadia announced in 2015 that she was pregnant with twins. Her and Bill now have three children as a result.
A former local elected official called me this morning to report that Nadia is missing and her friends are very concerned about her well being.
UPDATE:
Nadia appears to be home and safe now according to posts on her Facebook page: