Cesar Chavez believed ferociously in the border of the United States — because that border protected his union. So ferociously did he hold this view that the New York Times ran a story detailing an accusation that the union Chavez founded, the United Farm Workers, set up a 100 mile "wet line" to keep "wetbacks" and "illegals" — yes, all of those are Chavez's words — out of the United States, according to the American Spectator.
A 1969 article in the Lodi News-Sentinel also quoted Dolores Huerta, who helped found the UFW with Chavez, using the term. "There is a detention camp for wetbacks at Coachella from where they're (wetbacks) (sic) taken out every day to work in the fields," one article says, according to the Huffington Post.

Chavez and Huerta opposed and mistreated immigrants from Mexico because they were trying to prevent farmers in California from hiring these hard-working people.
Despite Chavez' racist past he has been repeatedly honored by Democrats including former President Barack Obama.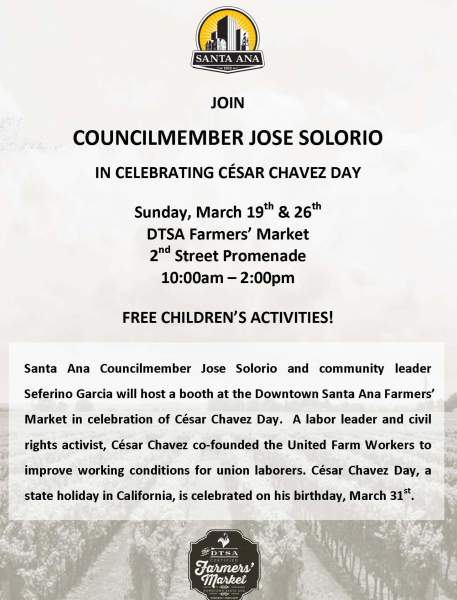 Locally Santa Ana Councilman Jose Solorio has been a big fan of Chavez as well. In fact Solorio is hosting local events this month related to Cesar Chavez Day, which is celebrated in California on March 31:
Sunday, March 19th & 26th
DTSA Farmers' Market
2nd Street Promenade
10:00am – 2:00pm
FREE CHILDREN'S ACTIVITIES!
Solorio recently joined the rest of the Santa Ana City Council in denouncing President Donald Trump and in declaring Santa Ana to be a Sanctuary City. Ironically if Chavez were alive today he would be wearing a red "Make America Great Again" cap and he would definitely be an ardent Trump supporter.