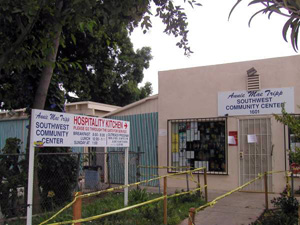 The volunteers at Santa Ana's Southwest Community Center are in mourning today, after "A late-night fire damaged their Santa Ana soup kitchen and destroyed $50,000 in food and holiday gifts that were to be distributed to needy families this weekend," according to the L.A. Times.
The Times also reported that "the center serves breakfast and lunch every day to more than 200 people and dinner on Saturday," according to their executive director, Connie Jones.
Here is more information about this important community resource, from their website: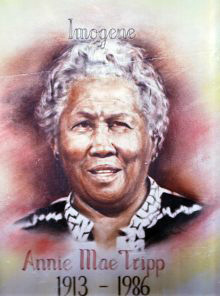 In 1970 our founder, Annie Mae Tripp, was a domestic worker with seven children. She struggled to make ends meet, but she had a dream. She saw the hungry and homeless in the streets and she thought she could help. She began by serving meals of soup and bread to 12 homeless men from her garage. In 1971 she rented a building and began her ministry to the poor.

With three special ladies who were instrumental in founding the Center– Betty Thompson, Jean Forbath, and Bernice Ranford, Annie Mae solicited churches, people and organizations for support. Annie Mae has passed away now, but today we serve over 10,000 meals a month, distribute food baskets, clothing and provide many other services. We strive to follow in her footsteps. Annie Mae's dream has come true.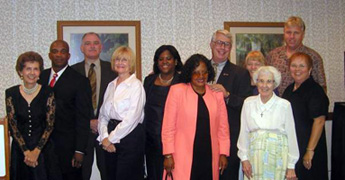 Southwest Community Center's Board of Directors: John Collins, President; Donna Ford, Vice President; Al Oleson, VP Finance; Arlene Forrest, Secretary; Connee Valle, Treasurer
"By early Tuesday afternoon, help was already coming in. Jones said the Orange County Food Bank and Second Harvest had offered food. The Orange County United Way announced that it would take donations for the center," according to the O.C. Register.
Santa Ana City Councilwoman Michele Martinez posted this message for her constituents and friends on her Facebook account today, "I hope many of you will consider donating or helping in someway. These folks help those who are most needy in our community."
The official mission of the Southwest Community Center is to "Provide food, clothing, shelter, guidance, health, and referral services to economically disadvantaged individuals and families, and assist and encourage those whom we serve to achieve self-sufficiency."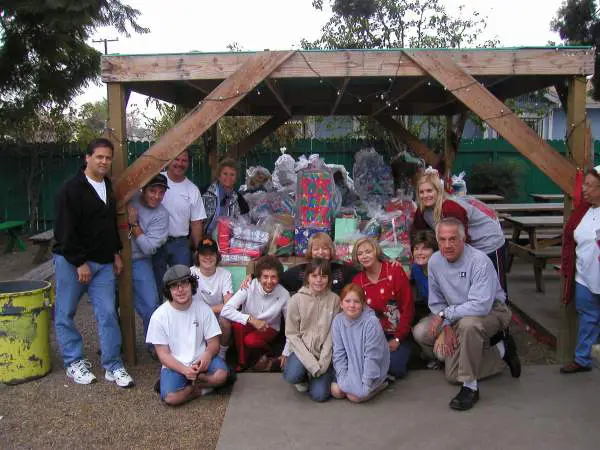 Click here to find out how you can help the folks at the Southwest Community Center.
Also, Rebuilding Together Orange County, which is located at 625 S Cypress Ave., in Santa Ana, is hosting storage of donated items for Southwest Senior Center.
And all volunteer groups that cooked lunch at SWC site are being given permission to use the stove @ RTOC and transport to the serving site.
If you have any quetions, please call Mary A Bloom-Ramos at 714-585-3034, anytime.  Bloom-Ramos is a 
Project Development Manager, with Rebuilding Together Orange County.