"We're Not Broke," a documentary by Karen Hayes and Victoria Bruce, will be airing on Sunday, May 19, 2013, from 4:00 pm until 6:30 pm, at the Santora Building for the Arts, located at 207 N. Broadway, in Santa Ana.
This is the story of how multi-national corporations make record profits, yet dodge billions of dollars in income tax, and how seven fed-up citizens take their frustration to the streets… and vow to make the corporations pay their fair share.
Join us and learn how big money has corrupted American politics and how you and 99rise are going to claim our democracy for the 99%.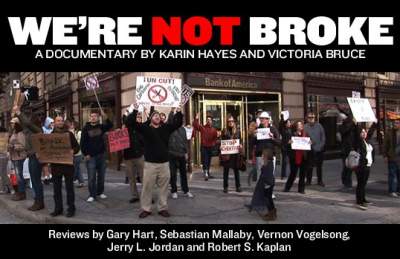 • Space is limited: R.S.V.P. is recommended
• Parking is free on Sundays, including parking meters
• Refreshments will be served
• Artists Village Restaurants such as Memphis, Lola Gaspar, and Izalco are open for lunch before the film or dinner afterwards
Click here to RSVP on Facebook.