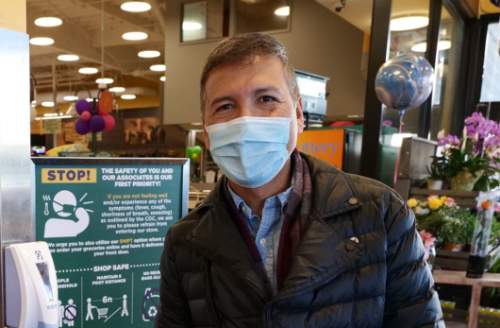 City Manager Kristine Ridge has signed an executive order requiring the use of face coverings in public, as directed by the Santa Ana City Council in a unanimous vote this week.
The order, made under the City Manager's local emergency declaration authority during the COVID-19 pandemic, reflects the statewide mask order but also provides local penalties for failure to comply.
All people within the City limits of the City of Santa Ana are required to wear a face covering at all times in public or when outside of their home, except for certain exemptions. Violation of this order is a crime and may be pursued as an administrative citation, an infraction or a misdemeanor.
However, the City of Santa Ana recognizes that many residents and businesses have been financially impacted by the pandemic. We hope not to add to that burden by having to issue fines or other penalties for those who violate the mask order.
We encourage all residents and visitors in Santa Ana to voluntarily comply with the order to protect themselves and their community against the spread of COVID-19. Case numbers are rising fast and we ask everyone to do their part. We are all in this together.
Read more about the mask order at: www.santa-ana.org/latest-news/executive-order-face-coverings-required-santa-ana
Santa Ana residents can receive free COVID tests, isolation assistance for households with positive cases, rental assistance and other support. Learn more at www.santa-ana.org/CARES.
Orden Ejecutiva: Se Requieren Mascarillas Faciales en Santa Ana
La gerente municipal, Kristine Ridge, ha firmado una orden ejecutiva que requiere el uso de cubiertas para el rostro en público, según lo indicado por el Concejo Municipal de Santa Ana en una votación unánime esta semana.
La orden, hecha bajo la autoridad de declaración de emergencia local de la gerente municipal durante la pandemia de COVID-19, refleja la orden de máscaras en todo el estado, pero también establece sanciones locales por incumplimiento.
Todas las personas dentro de los límites de la Ciudad de la Ciudad de Santa Ana deben usar una cubierta facial en todo momento en público o cuando estén fuera de su hogar, excepto por ciertas exenciones. La violación de esta orden es un delito y se puede perseguir como una citación administrativa, una infracción o un delito menor.
Sin embargo, la Ciudad de Santa Ana reconoce que muchos residentes y negocios se han visto afectados financieramente por la pandemia. Esperamos no aumentar esa carga al tener que imponer multas u otras sanciones para quienes violen la orden de mascarillas.
Alentamos a todos los residentes y visitantes de Santa Ana a que cumplan voluntariamente con la orden de protegerse a sí mismos y a su comunidad contra la propagación del COVID-19.
El número de casos está aumentando rápidamente y les pedimos a todos que hagan su parte. Estamos todos juntos en esto.
Obtenga más información sobre la orden de mascarillas en: www.santa-ana.org/latest-news/executive-order-face-coverings-required-santa-ana
Los residentes de Santa Ana pueden recibir pruebas de COVID gratis, asistencia de aislamiento para hogares con casos positivos, asistencia de alquiler y otro tipo de apoyo. Obtenga más información en www.santa-ana.org/CARES.