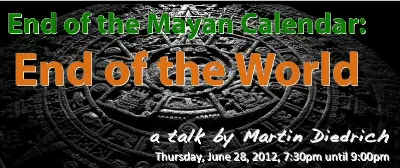 End of the Mayan Calendar: End of the World, a talk by Martin Diedrich
Thursday, June 28, 2012, 7:30pm until 9:00pm
Have you been hearing about the "End of the Mayan Calendar" in 2012 from all kinds of sources, along with the predictions that the ending of the calendar signals an end to life as we know it? Would you like to hear the perspective of an expert in Mayan studies? Did you know that world renowned coffee expert Martin Diedrich is also a Mayan archaeologist who studied under one of the foremost experts on the ancient Maya, Linda Schele of University of Texas and spent many years on archaeological digs, studying Mayan culture and hieroglyphics, as well as having grown up among the Mayan people in Guatemala?

Martin has spoken on the Maya in many venues including universities, schools and museums. His talks weave a tapestry of images from his personal and professional experiences with the Maya that captivate audiences and leave them awed and inspired.
You are invited to Martin's talk and slideshow presentation on Thursday evening, June 28th at the Environmental Nature Center in Newport Beach where he will discuss the end of the Mayan calendar and much more. If you have friends or neighbors who are worried about the grim predictions, bring them along! RSVPs are not required, but are much appreciated. Guatemalan coffee will be served.
For more information, you may contact Karen at (949) 933-9164 or info@keancoffee.com.
RSVP: lori@encenter.org or 949-645-8489