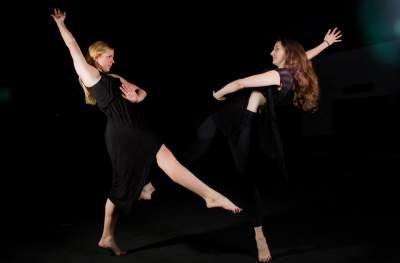 Media Contact: Kaitlin Wright, (661) 350-7541, kaitline13@gmail.com
Emerging Non Profit Dance Company to Perform at Local Santa Ana Art Festival
Recent 501(c)(3) incorporated company, Embark Dance Theatre (EDT) will share modern dance with the community at the Patchwork Show on Nov. 30th.
Brea, CA — Nov. 25, 2014 — Orange County residents can catch a performance by dance company, Embark Dance Theatre (EDT), at the Patchwork artisan craft festival in downtown Santa Ana on 2nd and Sycamore St on Sunday, Nov. 30th. The Patchwork show gives local crafters, designers and artists a place to share their artisan crafts with the community and for the second time, Embark will add their creativity to the event.
Performing a 25 minute set of original choreography, Embark hopes to expose the community to modern dance and invite people to explore art in a uniquely accessible way.
"I think this event is different for a dance company to do in general," said EDT Executive Director, Amy Tabback. "People are usually looking for a stage and costumes, but at Patchwork we are up close and personal. We have a chance to talk and connect with people in the community."
The Embark dancers will set up in front of the Orange County Center for Contemporary Art (OCCCA) and perform three times during the festival which goes from 11:00 am – 5:00 pm. Through their performances, Embark hopes to propel the understanding, philosophy and art of modern dance.
Founded in 2013 by Cal State Fullerton graduates Kelsey Jenson, Co-Artistic Director, Timaeus Le, Co-Artistic Director, and Tabback, Embark aims to give dancers a professional outlet where they can continue to discover, enhance and improve their artistic voices.
"People in the dance community seem to move out of Orange County in order to feel legitimate in the dance world, but we have the talent and the resources here, so why not cultivate it?" said Tabback.
A large part of Embark's mission as a dance company is to find ways to give back to the community through artistic education and exposure. They perform at community events, host workshops and teach master classes to local Orange County high schools. In hopes of reaching out to a wide audience, Embark aspires to present choreography that tells stories of relatable human experiences and through these movement-based stories, Embark invites the Orange County community to connect with them.
About Embark Dance Theatre
A 501(c)(3) tax-exempt non profit modern dance company, EDT was founded by Kelsey Jenson, Timaeus Le and Amy Tabback. Based in Brea, California, the company strives to tell stories of genuine emotion and life through their choreography. EDT aims to educate both the dancing and non-dancing community about modern dance and the artistry of human experience through the language of movement. For more information or to make donations, please visit Embark's website and connect with them on Facebook.
About Patchwork Show
Patchwork Show is Dear Handmade Life's bi-annual, makers festival showcasing local emerging artists, crafters and designers alongside artisan food, DIY craft workshops, gourmet food trucks and indie music. All Patchwork shows are free to attend and family friendly. Vendors are selected through a jury process and feature clothing for men, women & kids, handbags, accessories, jewelry, art, ceramics, garden finds, home goods, plushies, crochet & knit items, pet gear, kits & patterns, bath & body goodies and more! More information is available here.
###