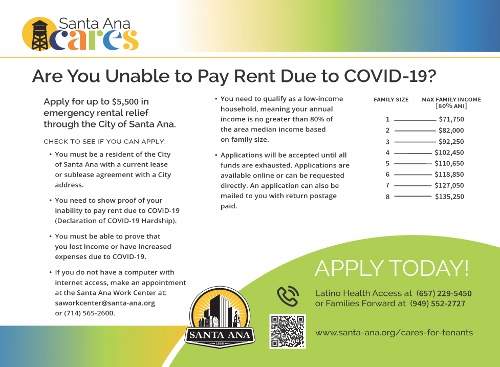 FOR TENANTS – Are you unable to pay rent due to COVID-19? Apply for up to $5,500 in emergency rental relief through the City of Santa Ana.  Applications are available on the Santa Ana CARES for Tenants webpage at www.santa-ana.org/cares-for-tenants or can be requested directly from Latino Health Access at (657) 229-5450 or LHARent@latinohealthaccess.org or Families Forward at (949) 552-2727 or santaana@families-forward.org.
If you do not have a computer with internet access or need assistance submitting an application, please contact the Santa Ana Work Center at (714) 565-2600 or by email at saworkcenter@santa-ana.org to schedule an appointment. Assistance is available by appointment only. Applications can also be mailed to you with return postage paid.
Watch a tutorial to learn how to apply:
English:         https://youtu.be/e-6IECq1ETs
Spanish:        https://youtu.be/mCtutphFyxA
Vietnamese: https://youtu.be/2Lh1DsQE7UU

FOR TENANTS FACING EVICTION – Please go to www.santa-ana.org/SAVES to learn more about the SAVES Program and submit a pre-application.  Families at risk of eviction can also call 2-1-1 or go to https://santaana.211oc.org/ to start the application process today. Santa Ana residents impacted by COVID-19 who are behind on rent and facing eviction within 21 days can apply for up to 12 months' rent (which includes up to six months' rental arrears since April 1, 2020) and receive free legal and mediation services.

FOR LANDLORDS – If you have experienced a loss of income because of unpaid rent, apply now to get financial assistance for your tenants through the California COVID-19 Rent Relief program. Landlords can get reimbursed for 80% of past-due rent accrued between April 1, 2020, and March 31, 2021, if they agree to waive the remaining 20% of unpaid rent. Landlords can verify their eligibility and apply immediately on behalf of their tenants by visiting https://housing.ca.gov/ or by calling 833-430-2122 for more information.

If you would like to learn more, two Zoom workshops will be held on May 12 and May 26 at 6 p.m. in English, Spanish and Vietnamese. You can register for one of these two workshops by e-mailing aalvarez@santa-ana.org.
Asistencia de Emergencia para la Renta Está Disponible
Español: https://bit.ly/3fvlqU1
Hỗ trợ cho thuê khẩn cấp có sẵn
Tiếng Việt: https://bit.ly/39wrAQ4