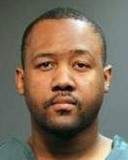 Do you remember the strange incident that occurred in Santa Ana, back on Jan. 29, 2014, when a woman's body was found on the northbound 5 Freeway, just before 2:45 a.m., at the juncture with the westbound 22 Freeway? It turns out the driver of the truck she jumped out of was a murderer, according to the O. C. Register.
The victim, Martha Rodezno, 51, was from L.A. She had hitched a ride with a fellow from Hawthorne named Jaqwun Laerin Turner, 36, and for some reason she jumped out of his truck – and he did not stop. Turner was arrested by the SAPD and as a result his DNA was collected – which led to Turner's downfall.
Turner's DNA was eventually linked to another incident – the murder of a woman in South Los Angeles back in 2004. He was charged back in 2015 with the April 10, 2004, slaying of Leah Deshay Benjamin, whose body was found wrapped in a blanket in an alley in the 10600 block of South Manhattan Place.
Turner pleaded no contest on May 18, 2017 to murdering Benjamin in 2004 after DNA evidence tied him to the crimes years later, according to the Los Angeles County District Attorney's Office.
The 38-year-old woman died from blunt force head trauma, authorities said. A background check of Turner revealed he had lived in "close proximity" to the area where Benjamin's body was discovered, according to the L.A.D.A.
Turner entered his plea to one count each of first-degree murder, kidnapping and assault with a deadly weapon. He was immediately sentenced to 34 years to life in state prison.
Turner previously pleaded guilty back in August 2014 to a felony hit-and-run charge and was sentenced to a year in the Orange County jail and five years probation, for the death of Rodezno. This upset OC Deputy Attorney Stephen Cornwell, who argued at the time that Turner should have spent more time in jail after he left Rodezno to die, alone, on the 5 Freeway – and he failed to call the police.