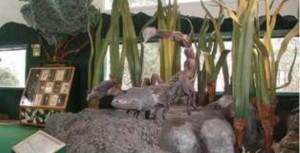 They're coming to get you…at Discovery Science Center! No magnifying glass needed here; these bugs are larger than life! Experience giant bug animatronics, a world-class insect collection, and interactive educational stations. See the world of bugs through their eyes, find out about "the good, the bad, the ugly" of the insect world, even play with our remote-controlled robotic bugs!
KIDS – Be sure to wear your costume on Saturdays and Sundays and join in our Spider Mash Dance and Costume Parade at 2:00pm!
Creepy Crawly Guests, Dates & times listed below
Dr. Sue's Traveling Insect & Arthropod Zoo
Get totally bug-eyed at the ultimate insect-stravaganza! Stare into the powerful jaws of a praying mantis, pet a tarantula, discover glowing scorpions, and even play with GIANT ants!
OC Vector Control
Ouch! Pesky Mosquito! Go eye-to-eye with these annoying creatures as you observe the Mosquito Chamber and learn how mosquitoes spread disease, why they bite, and how you can protect yourself!
Rat & Mouse Club of America – So Cal Chapter
Did you know that mice and rats make excellent pets? Uncover the true identity of these fascinating rodents and learn how to train a mouse or rat, what their needs are, and maybe even adopt a rat!
Bee Keepers
Deemed the "Architects of Agriculture" by the New York Times, these four-winged, flower-feeding insects not only produce honey and pollinate crops, they are far more interesting than that… find out why!
Thor's Creepy Crawlers Stage Show
Did you know a cockroach can live nine days without its head and that tarantulas can jump up to two feet? Meet these spectacular arthropods during this special stage show complete with a live tarantula, loud hissing cockroaches, black Empire Scorpions; even meet some amphibians and lizards who like to eat bugs!
Click here to buy tickets.