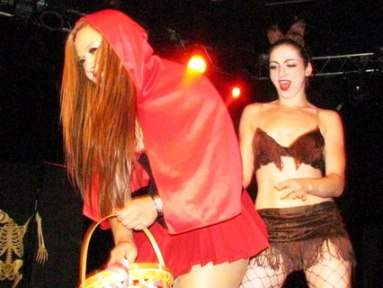 UPDATED: Sources at City Hall have advised that the burlesque show set for Nov. 6, 2013, likely will not happen as The Copper Door has not yet acquired an Enertainment Permit that will allow them to proceed.  I am told that the SAPD will shut down this event if they have to.  Burlesque is allowed in Santa Ana if it doesn't violate the adult entertainment ordinance, which prohibits the exposure of specific body parts.
Dirty Little Secrets Burlesque Residency
FOR IMMEDIATE RELEASE: October 11th, 2013
(Santa Ana, CA) Oct 12, 2013 – The Copper Door Bar, the popular craft beer bar located on 3rd and Broadway, has partnered with Dirty Little Secrets Burlesque. The burlesque troupe will perform a monthly show every first Wednesday of the month. Opening night will take place next month on November 6th.
Dirty Little Secrets Burlesque is the largest performing burlesque troupe in Southern California and is recognized as one of the top ten best burlesque shows by LA Weekly. Formed in 2006, the dancers pair storytelling with a mix of classic and neo burlesque, belly dance, aerial arts, and comedy. In line with The Copper Door's own unique underground experience, the bar is excited to offer the downtown Santa Ana community a truly unique entertainment experience. All shows will have no co charge and will be open to patrons who are 21 years old and over.
"Everyone at The Copper Door is thrilled to be teaming up with DLS Burlesque. We're always looking for ways we can add to the arts culture here in the Artists Village." –Alvin (The Copper Door owner)
"The underground, speakeasy atmosphere is perfect for our sultry performances. We're excited to see how we can use the raised stage, all the open space, and even that beautiful 30-foot wooden table, it's definitely going to be a fun experience! And I'm so glad we were able to work out this residency to offer locals the kind of entertainment that's usually found in LA, but now you can find right here, at The Copper Door!" –Caitlin (DLS Burlesque)
The 6,000 square feet, 300-person capacity space is located at 225 ½ N Broadway, Santa Ana, 92701. Current hours are Tuesday-Thursday: 8pm-2am, Friday-Saturday: 7pm-2am, and Sunday: 8pm-12am.
DLS Burlesque website: http://www.dirtylittlesecretsburlesque.com/
The Copper Door Bar website: www.thecopperdoorbar.com
Media Contact:
Erica Yu
Public Relations and Events Coordinator
media@thecopperdoorbar.com
###