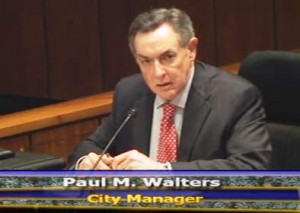 The Santa Ana City Council has agendized a clsoed door session to take place tonight at 5 pm.  The topic?  Dismissing City Manager Paul Walters.  Details below.
This is a chance to show up and let them have it again – if they allow for any public comments. If not, at least we can bring signs and picket.  This Council needs to know that we are not happy with their dismissal of our great City Manager, Paul Walters.
Meeting details:
CALL TO ORDER
AGENDA
JANUARY 24, 2013 5:00 P.M.
Council Chamber, 22 Civic Center Plaza Santa Ana, California 92702
Mayor PULIDO
Councilmembers AMEZCUA, BENAVIDES, MARTINEZ, REYNA, SARMIENTO, TINAJERO
City Manager, City Attorney, Clerk of the Council
CITY OF SANTA ANA, SPECIAL MEETING OF THE CITY COUNCIL
PUBLIC COMMENTS – Members of the public may address the City Council on items on the Special Meeting Agenda.
CLOSED SESSION ITEMS – The Brown Act permits legislative bodies to discuss certain matters without members of the public present. The City Council finds, based on advice from the City Attorney, that discussion in open session of the following matters will prejudice the position of the City in existing and anticipated litigation:
1 PUBLIC EMPLOYEE DISMISSAL/RELEASE AND APPOINTMENT OF INTERIM pursuant to Government Code Section 54957(b)(1)
Title: City Manager
CLOSED SESSION REPORT – The City Attorney will report on any action(s) taken following the Closed Session Meeting.
ADJOURNMENT
NOTE: If you need special assistance to participate in this Council meeting, please contact Ellen Smiley, City ADA Program Coordinator, at (714) 647-5340. Please call prior to the meeting date, to allow the City enough time to make reasonable arrangements for accessibility to this meeting. [Americans with Disabilities Act, Title II, 28 CFR 35.102]