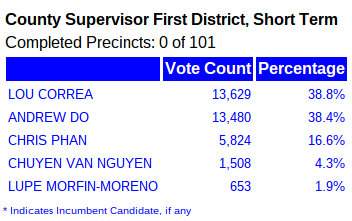 The early results from today's First District Special Election have been posted by the Orange County Registrar of Voters and former State Senator Lou Correa is in the lead by 149 votes.  Former Supervisor Janet Nguyen's henchman, Andrew Do, is in second place with 38.4% of the vote.
Garden Grove Councilman Chris Phan is in a distant third place with only 5,824 votes.  While he did a lot of walking he didn't get in the mailboxes and that is crucial in low turnout special elections.
The two bogus candidates – Chuyen Van Nguyen and Lupe Morfin-Moreno, came in at the bottom of the early results.  Morfin-Moreno, a Mexican who hates Mexicans, came in dead last with 653 votes.
If Do loses in a squeaker it will be because he had no grassroots support – just a lot of mail.  And he wasn't able to overcome a three-way Viet vote split.
However it is early yet – and while the early absentee votes have been counted there are still many ballots to go.