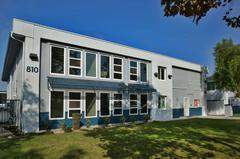 SANTA ANA, Calif. (December 22, 2020) – Jamboree Housing Corporation and the City of Santa Ana announced today the completion of a major renovation of the Cornerstone Apartments, preserving high-quality, affordable housing for 125 Santa Ana families ahead of the holidays.
One of Jamboree's first affordable apartment communities in Santa Ana, Cornerstone Apartments was first rehabilitated in 2001 as part of the City of Santa Ana's effort to address gang violence and high crime rates in the Minnie Street community. Through partnerships with public safety, community partners like Cambodian Family, and close property management oversight, Cornerstone Apartments has revitalized this previously blighted neighborhood, leading to a dramatic drop in crime and a rise in community involvement, and security for residents.
"Santa Ana is not just looking to provide affordable housing for our community, but quality affordable housing that is accessible to all residents," Santa Ana Mayor Vicente Sarmiento said. "While new affordable housing is necessary to address our housing crisis, it's equally important that we ensure our current affordable housing supply remains first-rate and affordable."
"Ensuring the affordable housing we develop, operate, and own is an asset to the community is a top priority for Jamboree," said Laura Archuleta, Jamboree President and CEO. "Cornerstone Apartments is the perfect example of how affordable housing can transform a neighborhood. By bringing opportunities and services to underserved communities, we can change lives and communities."
As a long-term owner and operator of Cornerstone Apartments, Jamboree has continued working closely with the City of Santa Ana to ensure the affordable housing community remained a valuable asset over the past decade. Nineteen years after the first rehabilitation, the City of Santa Ana and Jamboree began to evaluate how additional upgrades to Cornerstone Apartments could improve access and quality of life, and integrate cost-saving, energy efficient technology for residents. In September 2019, the City of Santa Ana refinanced $7.1 million in various affordable housing loans so that Jamboree could rehabilitate Cornerstone Apartments on behalf of 125 families.
In 2020, Jamboree's Quality Development and Construction, Inc. (QDC) team began the multi-million-dollar rehabilitation at Cornerstone, which included both interior and exterior upgrades. Outside of the apartment homes, QDC focused on increasing the flow of traffic and ease of parking at the affordable housing community. This was accomplished through the installation of car lifts to increase parking capacity, as well as a seismic retrofit of the tuck-under parking at the community. New silicone roofs, which are more weather resistant and cost effective, were added throughout the property in addition to solar roof panels that will decrease resident energy costs overtime.
Inside the Cornerstone Apartments, QDC construction teams focused on increasing access for residents by updating paths of travel, including Americans with Disabilities Act (ADA) updates to common areas at the community, and the full conversion of eight units into ADA-accessible apartments. All apartments had new cabinets and countertops installed, and upgraded, energy-efficient lighting and appliances. The second-floor apartment's flooring was replaced with acoustic dampening flooring to decrease noise.
To learn more about Cornerstone, visit www.jamboreehousing.com/blogs/affordable-housing-communities/cornerstone.