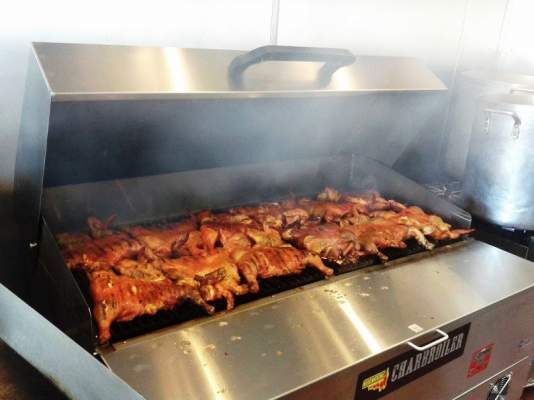 Anabella and Salvador Corona opened the first El Pollo Norteño restaurant back in 1981.  It was the culmination of their longtime desire to open a restaurant abroad after coming to the United States from the State of Sonora, in Mexico.
Today their son Alfonso continues their traditions but now the City of Santa Ana has condemned his flagship restaurant, at  202 N. Grand Ave. – the very same one that Salvador opened 32 years ago.  The reason?  The City is widening Grand Ave. and El Pollo Norteño is in their way.

And it's not just this restaurant – the whole shopping center is slated to be torn down including the beloved Grande Bakery.   The loss of this resaurant cuts to the bone – Alfonso grew up here as did his kids.  Losing this location is like losing part of their family.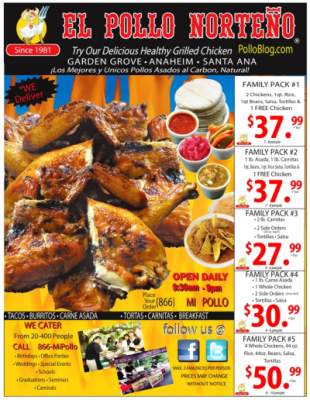 El Pollo Norteno is know for their marinated, secret-recipe mesquite-grilled pollo – but they also offer savory carnitas and delicious carne asada.  Their Family Packs are tremendous – with any of these meats plus their homemade rice and beans and unbelievable salsas plus warm corn and/or flour tortillas.  They also offer amazing tortas and freshly made burritos.  Click here to see their menu.
If there is a silver lining for Corona it is that he will still have a location in Santa Ana, over at 1525 W. First St., #A. But the reality is that this move by the City is going to hurt – this location is responsible for 60% of Corona's sales and the City is lowballing him.  Even worse they are forcing him to move out before they have even agreed on terms.  Corona tells me he has to shut down by Nov. 1.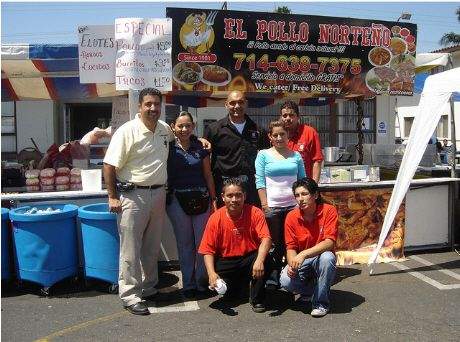 Corona employes sixteen workers in Santa Ana – most live here as does Corona and his family.  You see his portable taco tent at local events, where he donates the proceeds to the PTA and the Northeast Santa Ana Little League. He is active in those organizations as well as his church, which is also located here in Santa Ana.
Corona was planning to franchise his concept but now he is losing his top location, which underwrote the locations in Anaheim and Garden Grove as well as his other location in Santa Ana.  This will put a giant strain on Corona's entire operation.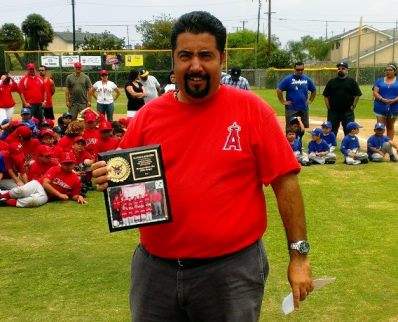 Corona is going to ask the Santa Ana City Council for help – and I hope they don't blow him off.  Santa Ana already has a well-deserved reputation for being anti-business.  Why make things worse?
The City should be fair to Corona and his family.  An independent appraiser valued their business at a much higher value than what the City came up with.  The City needs to make this right!