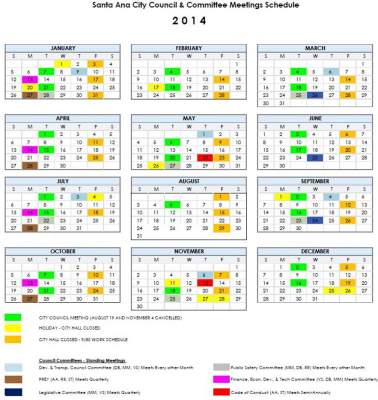 City of Santa Ana, Downtown Orange County
Community Alert: CITY OF SANTA ANA 2014 CITY COUNCIL AND COUNCIL COMMITTEE MEETINGS CALENDAR
SANTA ANA, CA (December 19, 2013) – On December 16, 2013 the City Council approved its 2014 calendar for City Council and Council Committee meetings.
Please note that commencing with the first meeting in 2014, the City Council meetings will be held on the 1st and 3rd Tuesdays of the month at 5:00 p.m. for Closed Session and 5:45 p.m. for the Regular Open Session in the Council Chamber, 22 Civic Center Plaza, Santa Ana, CA. Meetings are open to the public, and residents are encouraged to address the Council on matters of importance.
City Council Meetings are broadcast live on CTV3 Time Warner Cable and rebroadcast on Mondays at 6 p.m., Tuesdays and Wednesdays at 9 a.m. & 6 p.m., and Sundays at 1:00 p.m. Meetings held in locations that do not have a live cable feed will be videotaped and shown on CTV3 the day after the meeting. DVD copies of the meetings will be available for public circulation at the Santa Ana Main Library the day after a meeting. Also, video-on-demand of archived meetings is available at the web address noted below.
Council Committee meetings are held at various locations and are noted on the Agenda.
Agendas for all public meetings are posted on the internet and may be found at: http://www.santa-ana.org/city_meetings.asp
For more information, please contact the Clerk of the Council Office at 714.647.6520 during regular business hours.
###