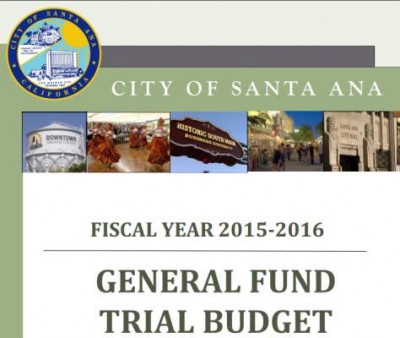 City of Santa Ana, Downtown Orange County
Community Alert: A Message from the City Manager: FY 15-16 Trial Budget
It is an exciting time to be part of Team Santa Ana! The City continues to achieve many of the Strategic Plan milestones through innovation and efficiencies, process improvements, excellent fiscal management, the effective use of resources, and by creating a culture of entrepreneurism. The culmination of these efforts has led to exceptional progress in attaining fiscal health and accomplishing our goal of fiscal stability.
Continuing on our success, the City will move forward with the development of the 2015-16 Budget which is scheduled for approval in June of this year. As part of the budget process and in following the City's guiding principles of fiscal responsibility and transparency, we will present the Trial Budget to the City Council on Tuesday, March 17. The Trial Budget includes funding for:
• Increased service levels
• Sustainable compensation increases
• Funding for future pension costs
• Increased staffing
• Five-Year Strategic Plan
• Computer and technology enhancements
• Capital improvements and deferred maintenance
City employees are encouraged to attend the City Council meeting to learn more about the 2015-16 Trial Budget. To view the presentation, please visit our Finance and Management Services website.
We can never rise above our leadership. On behalf of all employees, we would like to express our gratitude to the Mayor and City Council for their outstanding leadership and for providing a culture where Team Santa Ana can continually thrive.
Best,
David Cavazos
City Manager