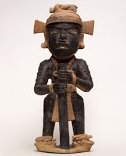 FOR IMMEDIATE RELEASE
VICTOR PAYAN, LATINO AUDIENCE ENGAGEMENT SPECIALIST, 714.567.3645 | VPayan@bowers.org
"Treasures of Veracruz" Exhibit Opens March 14 at Bowers Museum
Pre-Columbian Artifacts from Bowers Permanent Collection on Display thru April 12
SANTA ANA, CA – The Bowers Museum is currently upgrading many of the historic galleries in its Mary Muth Wing, which will reopen with an exciting series of exhibitions in 2015, starting in April with the highly-anticipated Adams, Curtis and Weston: Photographers of the American West exhibit. In order to take advantage of the progress of the renovation, the Bowers will mount a special Treasures of Veracruz exhibit opening Saturday, March 14, which will showcase eight Pre-Columbian artifacts from the museum's permanent collection.
Dating from 300-1500 A.D., the ceramic and stone sculptures in the Treasures of Veracruz exhibit exemplify the power, beauty and intensity of art from Mexico's Gulf Coast state. The human form figures represent gods and individuals of high status. The ceramic figures are hollow in construction and large in comparison to the sculptures produced by other Pre-Columbian cultures.

Most of the figures wear headdresses and garments. Some depict chapopote, a black asphalt that was considered to have a protective function, which decorates their surfaces. In addition, the exhibition includes a ceramic flute depicting the head of the Mesoamerican earth god, a striking sculpture resembling a human skull carved on the side of a conch shell which was likely worn as an ornament, and a beautiful fragment of a pelota ballgame yoke decorated with the heads of nobles.
Throughout Mexico's Gulf Coast state of Veracruz, archaeological sites have revealed the traces of many ethnic groups that flourished from approximately 300-1500 A.D. Veracruz Culture, as it is generally called, refers to known ethnicities such as the Huastec as well as centers of artistic production. There is some evidence to suggest that Veracruz art was influenced by the earlier Olmec culture and then later the Maya center of Teotihuacan. Despite these influences, Veracruz art and architecture developed as stylistically and technically unique from any others.
Founded in 1936, the Bowers Museum is one of California's finest and Orange County's largest museums. Situated in the heart of Orange County, the Bowers Museum enriches lives through the world's finest arts and cultures.
Admission to the Bowers Museum is $13 for Adults, $10 for Seniors and Students on weekdays; and $15 for Adults, $12 for Seniors and Students on weekends. Admission is free for children under 12, when accompanied by a paid adult or an adult who is a member.
General admission is free to Santa Ana residents every Sunday with a valid driver's license, utility bill or government-issued ID demonstrating a Santa Ana residence.
The Bowers Museum is located at 2002 N. Main St. in Santa Ana, just a few blocks from the 5 Freeway at the Main Street South exit in Santa Ana and a few short minutes from the 22, 55 and 57 freeways. The Bowers is directly accessible via the #53 and #83 OCTA bus lines at the 20th St. stop on Main St.
Regular operating hours are Tuesday through Sunday, 10 AM to 4 PM. Parking is $6. For more information, visit www.bowers.org or call 714-567-3600.