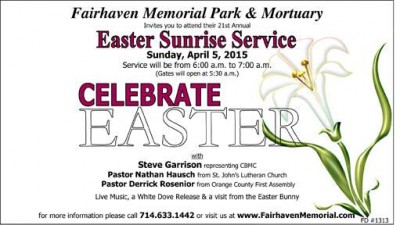 Come "Celebrate Easter" with Fairhaven Memorial Park on Sunday, April 5 at 6 a.m. In association with Christian Business Men's Connection (CBMC) of Orange County, Fairhaven's 21st annual Easter Sunrise Service will feature special guest speakers Steve Garrison with CBMC, Pastor Nathan Hausch with St. John's Lutheran Church and Pastor Derrick Rosenior with Orange County First Assembly.
Guests also will enjoy music by the Gospel Music Workshop of America, a visit from the Easter Bunny and an unforgettable white dove release.
Gates will open at 5:30 a.m. with available transportation from the parking area to service venue. The service will run from 6 a.m. to 7 a.m. in front of the Historic Mausoleum. Refreshments will be served.
Event Name: "Celebrate Easter" at Fairhaven Memorial Park's 21st Annual Easter Sunrise Service
Organization: Fairhaven Memorial Park
Date and Time: April 5, Gates will open at 5:30 a.m..  Service is from 6 a.m. to 7 a.m.
Location: The Historic Mausoleum in Fairhaven Memorial Park, 1702 E Fairhaven Ave, Santa Ana, CA 92705
Cost: Free
Event Contact: Cynthia Adair, 714.532.8921 ext. 289, cadair@fairhavenmemorial.com