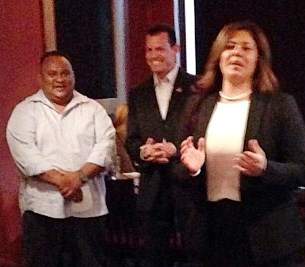 Santa Ana City Council members voted Tuesday in closed session to release to the public the city attorney's report on Mayor Miguel Pulido's property swap case on Sept. 30 if District Attorney Tony Rackauckas or the state's political watchdog don't file criminal charges against the mayor by then, according to the Voice of OC.
What is this all about? In 2010, members of the Pulido family traded a parking lot they owned to Rupen James Akoubian, owner of NAPA Orange County Auto Parts, in exchange for a house in Westminster. According to the public assessor's appraisals, the fair market value of the house was more than twice as much as the Pulidos' lot, according to the Voice of OC.
The family later transferred the house solely into the mayor's name, and he ultimately sold it for nearly $400,000, netting a $197,000 profit. Meanwhile, Akoubian's store received a $1.35 million, no-bid city contract to supply auto parts to the municipal vehicle fleet.
So did Pulido break any laws?  Let's look at this point by point:
Pulido should have recused himself when he voted for the city contract with NAPA Orange County Auto Parts.
Pulido didn't mention the deal on his finance reports, which he should have
But – and this is a huge key to this story – the Council voted unanimously for the auto parts deal and there is zero evidence that Pulido acted in any way to sway that vote.  That's because he didn't!
Pulido should at most receive a slap on the wrist from the State's Fair Political Practices Commission, and he most likely will.  But he didn't break any laws.
Ultimately the auto parts deal saved the City of Santa Ana thousands of dollars.  And granting that contract to a local company helped generate local sales tax revenue and jobs.
So what is all this really about?  Here is what it boils down to.  The Santa Ana City Council has drafted perhaps the weakest Mayoral opponent in the last three elections in the form of first term Councilman Roman Reyna.  They know he is going to lose and lose big in November so they are trying to damage Pulido – but they really have nothing on him.
The reason why the Orange County District Attorney has not filed any charges against Pulido is because there are no charges to file.  And the FPPC always takes forever to conclude their investigations.
Santa Ana Council Members Michele Martinez, David Benavides and Sal Tinajero have all had run-ins with the FPPC and have been accused of corruption time and again.  Here are just a few examples of this: