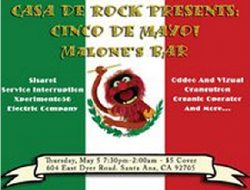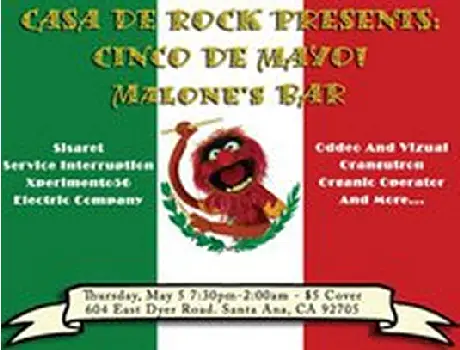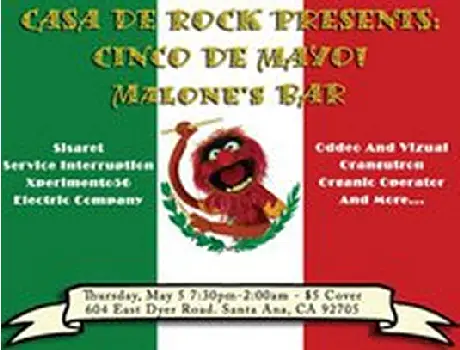 Malone's is throwing a gig on Cinco de Mayo (May 5)! Check out this Line up!
8-8:40 — Service Interruption —
Service Interruption is a group of young kids who rock the f*** out, get there early to see them. These kids are too young to be in the bar, but will rock your f******* socks off! www.myspace.com/serviceinterruption
8:40-9:20 — Xperimento56 —
Our only Latino band this 5 de Mayo is Xperimento56, probably a must to see them. They are one of the few politically aware bands in the local area and rock to a Latin beat! www.myspace.com/xperimento56
9:20-10:00 — The Electric Company —
Comprised of a jam band/jazzy nature, perfect for chillin' and even dancing! Great times with this band! Sort of like acid jazz. www.soundcloud.com/theelectriccompany
10-10:40 — Sisaret —
Sisaret is the new musical concoction of Brandi Alexander with April Tiger on bass! don't miss these two in their sexy, musical, lesbian action with Brandi and her musical, womanly sensitivity and rocking nature!
10:40-11:20 — Orangutron —
A heavy band trio/jammish band with the Price Brothers on guitar and drums and Ritchie on bass and vocals. Their longest song so far is something like 14 minutes long and they have a memorizing 50 minute set that will knock your socks into rock and roll oblivion!
11:20-12:00 — Oddeo And Vizual — (Theo and Tae's new musical, Comedy act)
Since Tae Kim took yours truly under his wing we have already put together 10 originals (3 of my own) AND WE EVEN MADE THE MIDGET SONG INTO REGGAE! This will be unlike any music act you have ever seen! We have our own originals and have even wrote a parody to 'Jessie's Girl", by Rick Springfield!! LOL!
12:00-12:40 — Organic Operator —
More to come!
Don't miss this!
A big night it will be indeed.
$5 cover! Be there at 7:30, 21+
Malone's
604 E. Dyer rd.
Santa Ana, CA