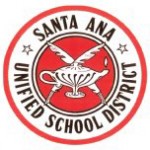 New Assistant Superintendent Named at Santa Ana Unified
FOR IMMEDIATE RELEASE
Contact: Angela Burrell, APR: (714) 558-5555
New Assistant Superintendent Named at Santa Ana Unified
SANTA ANA, CA — November 29, 2011 – The Santa Ana Board of Education has recently appointed Chad Hammitt to the position of Assistant Superintendent of Personnel Services for the Santa Ana Unified School District (SAUSD). Prior to his appointment, Hammitt was Executive Director of Human Resources for SAUSD. In his new post, he will be responsible for various personnel related matters including union negotiations and employee relations.
Hammitt joined SAUSD in 1996 as a classroom teacher. He then served in a variety of capacities including bilingual resource teacher, assistant principal, and principal before being promoted to Executive Director of Human Resources.
In his current role, Hammitt will direct a staff of 23 and a Districtwide staff of approximately 4,500 certificated and classified employees who serve approximately 56,000 students at 61 dynamic school sites throughout the Santa Ana community.
SAUSD is the largest school district in Orange County and the second largest employer in Santa Ana. The K-12 school district boasts 28 California Distinguished Schools, and seven National Blue Ribbon Schools, two of which are 2011 honorees. Contact us at 714-558-5555, or pioinfo@sausd.us. For more information about our schools, visit www.sausd.us.
###