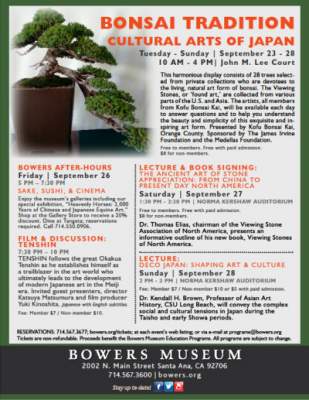 THE BONSAI TRADITION: CULTURAL ARTS OF JAPAN
Tues. – Sun. | September 23 – 28
10 AM – 4 PM| John M. Lee Court
This harmonious display consists of 28 trees selected from private collections who are devotees to the living, natural art form of bonsai. The Viewing Stones, or 'found art,' are collected from various parts of the U.S. and Asia. The artists, all members from Kofu Bonsai Kai, will be available each day to answer questions and to help you understand the beauty and simplicity of this exquisite and inspiring art form. Presented by Kofu Bonsai Kai, Orange County. Sponsored by The James Irvine Foundation and the Medellas Foundation. Free to members. Free with paid admission.
BOWERS AFTER-HOURS
Friday | September 26
SAKE , SUSHI , & CINEMA
5 PM – 7:30 PM
Enjoy the museum's galleries including our special exhibition, "Heavenly Horses: 2,000 Years of Chinese and Japanese Equine Art."  Shop at the Gallery Store to receive a 20% discount. Dine at Tangata; reservations required. Call714.550.0906.
FILM & DISCUSSION:
TENSHIN
7:30 PM – 10 PM | NORMA KERSHAW AUDITORIUM
TENSHIN follows the great Okakua Tenshin as he establishes himself as a trailblazer in the art world who ultimately leads to the development of modern Japanese art in the Meiji era. Invited guest presenters, director Katsuya Matsumura and film producer Yuki Kinoshita. Japanese with English subtitles. Fee: Member $7 / Non-member $10.
Saturday | September 27
LECTURE & BOOK SIGNING:
THE ANCIENT ART OF STONE APPRECIATION: FROM CHINA TO PRESENT DAY NORTH AMERICA
1:30 PM – 2:30 PM | NORMA KERSHAW AUDITORIUM
Dr. Thomas Elias, chairman of the Viewing Stone Association of North America, presents an informative outline of his new book, Viewing Stones of North America.  Free to members. Free with paid admission. $8 for non-members.
Sunday | September 28
TRADITIONAL JAPANESE TEA CEREMONY
1 PM – 2 PM | ANCIENT ARTS OF CHINA GALLERY
Presented by Soko Kodaka; limited seating. FREE.
LECTURE:
DECO JAPAN: SHAPING ART & CULTURE
2 PM – 3 PM | NORMA KERSHAW AUDITORIUM
Dr. Kendall H. Brown, Professor of Asian Art History, CSU Long Beach, will convey the complex social and cultural tensions in Japan during the Taisho and early Showa periods.  Sponsored by the Medellas Foundation. Fee: Member $7 / Non-member $10 or $5 with paid admission.
RESERVATIONS: 714.567.3677; bowers.org/tickets; at each event's web listing; or via e-mail atprograms@bowers.org.  Tickets are non-refundable. Proceeds benefit the Bowers Museum Education Programs. All programs are subject to change.
Founded in 1936, the Bowers Museum is one of California's finest and Orange County's largest museums. Situated in the heart of Orange County, the Bowers Museum enriches lives through the world's finest arts and cultures. The Bowers Museum is located at 2002 N. Main St. in Santa Ana, just one minute from the 5 freeway at the Main St. South exit, and just a few minutes from the 22, 55 and 57 freeways.  For more information, visit www.bowers.org, emailvpayan@bowers.org or call 714-567-3645.
###