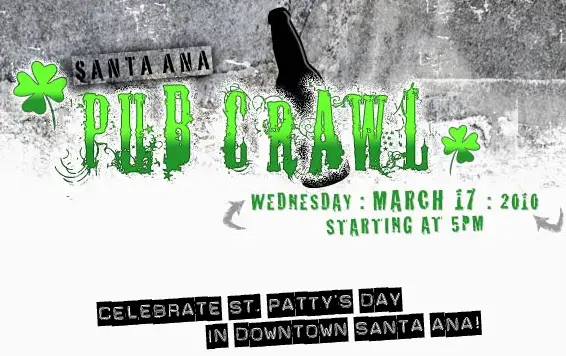 The Santa Ana Pub Crawl returns for one night only on Wednesday, March 17th (St. Patty's Day) starting at 5PM. Check out these awesome food and drink specials:
Memphis
We'll be featuring Authentic Irish Dinner Specials including: Corned Beef & Cabbage, Guinness & Lamb Stew, Bangers & Mash and Hunter's Pie.
 Irish drink specials all night long!
More pub crawl venues after the flip…

 Bistro 400
$3 Stella, $3 Monster Bombs, $2 Draft Green Beer and we'll be featuring "Irish Shot Specials" all night long!
 Lola Gaspar
Fried Irish Cheddar Potato Croquettes finished with a Chimmichurri Salsa for $6
All Irish Whiskey, All Well Drinks and Guinness: $4
 Gypsy Den
Buy a pitcher of beer and get 50% off Nachos, Quesadillas and our special appetizer for the night, "Irish Nachos".
 Don't forget to pick up some delicious shamrock cookies!
 Original Mike's
9.95 Corned Beef Sandwich
Well Drinks / House Wine / Domestic Beer $2.25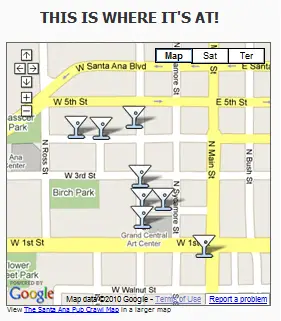 more specials to come!
 Pub Crawl on Facebook | Get the latest info on Twitter
Planning on drinking heavily? Can't hold your liquor?  Avoid a DUI and add these numbers to your phonebook.
California Yellow Cab
1-877-935-5692
1-800 TAXICAB
1-800-829-4222
And don't forget to Remember the San Patricios!