HUNDREDS OF CHILDREN RING IN THE NEW YEAR DRESSED AS THEIR FAVORITE SUPERHEROES AT DISCOVERY CUBE'S NOON YEAR'S EVE PARTY
Families are invited to ring in 2016 while the sun is still up at Discovery Cube's "Noon Year's Eve" party with a giant balloon drop, countdown, green screen photo booth, hats, horns and ginger ale toasts. Children are invited to dress up as their favorite superheroes as they enjoy a Superhero Dance Party and countdown to noon. Participants can also take part in learning stations themed around celebrating the coming New Year.
Learning stations include:
• Alka Seltzer Rocket – Witness a chemical reaction and watch gas expand, causing a canister to pop and fly in the air!
• Tambourines – Create a tambourine out of paper plates and beans, while learning about sound.
• Time Zone – Learn about the different time zones around the world.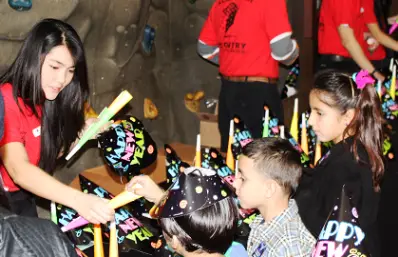 WHEN: Wednesday, December 30, 2015 and Thursday, December 31, 2015 from 10 a.m. to 5 p.m.
WHERE: Both Discovery Cube campuses in Orange County and Los Angeles
• 2500 N. Main Street, Santa Ana
• 11800 Foothill Boulevard, Los Angeles
Nonprofit Discovery Cube in Orange County and Los Angeles inspires and educates young minds through engaging science-based programs and exhibits to create a meaningful impact on the communities they serve. Their mission is brought to life through the cornerstones of their four core initiatives, including: STEM Proficiency, Early Learning, Healthy Living and Environmental Stewardship. This event represents their evolving commitment to expand STEM proficiency by keeping up with the trends, events, news and holidays that are capturing kids' attention – and creating an entertaining way to approach education through a day of family bonding to ring in the new year.
Admission to Discovery Cube OC is available on-site or online at www.discoverycube.org/oc/. Admission to Discovery Cube LA is available on-site or online at www.discoverycube.org/la/. General admissions prices for both campuses are as follows: adult ($17.95), senior ($14.95), children ages 3-14 ($12.95) and children ages 2 and under (Free).
About Discovery Science Foundation
The Discovery Science Foundation serves as the program-development, marketing and fundraising arm for hands-on science learning museums in Orange County and Los Angeles. Established in 1989, the original non-profit Taco Bell Discovery Science Center in Santa Ana, now renamed Discovery Cube Orange County, presented by Taco Bell, continues to inspire and educate millions of young minds through engaging science based programs and exhibits. In 2012, the Center was named one of the 10 "Most Trusted Brands" in Orange County and in 2013 was awarded the National Medal of Service from the Institute of Museum and Library Services.
In November 2014, Discovery Cube Los Angeles, a second nonprofit museum offering an exhibit and program mix unique to Los Angeles, opened in the Hansen Dam Recreational Area of the San Fernando Valley. For more information, call (866) 552-CUBE (2823) or visit discoverycube.org. Follow the Orange County and Los Angeles campus on Twitter (@DiscoveryCubeOC and @DiscoveryCubeLA).