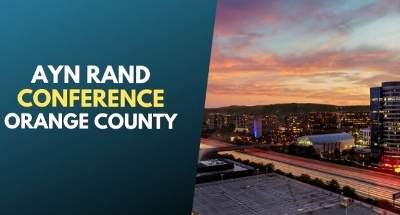 The Ayn Rand Institute is hosting a conference in our area! The Libertarian Party of Orange County will be attending this conference as a group.
The AynRandCon–Orange County will be held on January 18, 2020 at the Courtyard Marriott Santa Ana. Register and learn more here.
The theme of the conference is "Reason, Purpose, Self-Esteem." Through talks, panels, and discussions, attendees will explore Rand's view that these three values are essential to human flourishing and a free society. It's also a great opportunity to connect with others who appreciate the philosophy of liberty.
AynRandCon fosters a community of thinkers—people who ask questions and enjoy discussing big ideas. Whether you are a long-time Rand fan or just curious about her philosophy, you'll experience high-quality conversations and interactions.
Attendees include students of all ages, professionals from a variety of career fields, and Ayn Rand Institute staff and speakers. AynRandCon is a great opportunity to cultivate friendships, professional connections, and intellectual mentorships.
"My philosophy, in essence, is the concept of man as a heroic being, with his own happiness as the moral purpose of his life, with productive achievement as his noblest activity, and reason as his only absolute." –Ayn Rand
AynRandCon is designed to stimulate, inspire, and motivate you. The intellectual work you do at AynRandCon, and the insights you take away, will provide your soul the fuel it needs to face the world with moral certainty and achieve your highest values.
Use the discount code LPOC when you register to receive 75 percent off the cost (only $25 for adults and $6.25 for students with the code). Feel free to share this code with anyone and everyone in your network!
If you have any questions, feel free to contact Jennifer Minjarez at jminjarez@aynrand.org.
Please share this offer with friends, as well as with other groups you think may be interested. This event, and the offer, is open to all.
Ayn Rand born Alisa Zinovyevna Rosenbaum; February 2 [O.S. January 20] 1905 – March 6, 1982) was a Russian-American writer and philosopher. She is known for her two best-selling novels, The Fountainhead and Atlas Shrugged, and for developing a philosophical system she named Objectivism. Educated in Russia, she moved to the United States in 1926. She had a play produced on Broadway in 1935 and 1936. After two early novels that were initially unsuccessful, she achieved fame with her 1943 novel, The Fountainhead. In 1957, Rand published her best-known work, the novel Atlas Shrugged. Afterward, she turned to non-fiction to promote her philosophy, publishing her own periodicals and releasing several collections of essays until her death in 1982.
Rand advocated reason as the only means of acquiring knowledge and rejected faith and religion. She supported rational and ethical egoism and rejected altruism. In politics, she condemned the initiation of force as immoral and opposed collectivism and statism as well as anarchism, instead supporting laissez-faire capitalism, which she defined as the system based on recognizing individual rights, including property rights. In art, Rand promoted romantic realism. She was sharply critical of most philosophers and philosophical traditions known to her, except for Aristotle, Thomas Aquinas and classical liberals. (Source – Wikipedia)