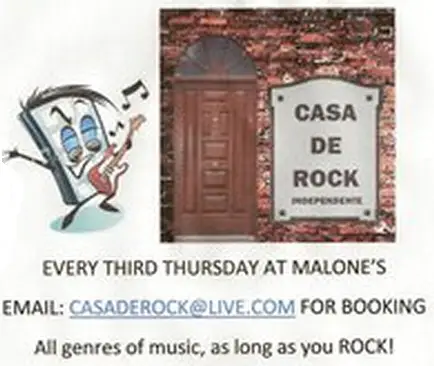 Casa de Rock, Summer Fest 2011!
Time: Thursday, June 2 at 7:00pm – June 3 at 2:00am

Location: Malone's
604 E. Dyer rd.
Santa Ana, CA
Here is our Band line up for the night, $5 cover!
7:00-8:00—Potential Lunatics—7-8 – http://www.thepotentiallunatics.com/home.cfm
8:05-8:45— Sam Page Band– http://SamPageMusic.com/
8:45-9:25 —Sisaret www.sisaret.com
9:30-10:10—Orangatron
10:25-11:05—Oddeo and Vizual – This is Theo Hirsch and Tae Kim's new Comedy music Project. Unbelievably creative and funny. You do not want to miss this!
11:10-11:50 —Death suits you
11:55-12:35 NFC– www.myspace.com/nfcband1
12:40-1:20—- Wyatt Blair– http://www.myspace.com/wyattblair