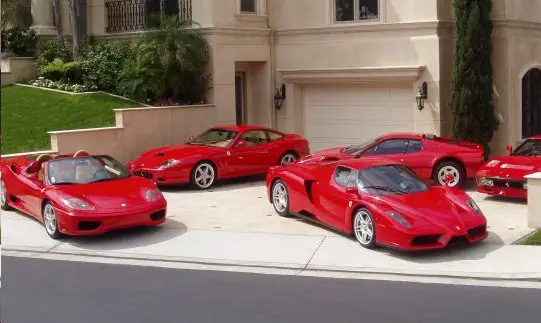 LATE-MODEL MODERN & CLASSIC COLLECTOR CARS ON DISPLAY
Lyon Air Museum, a premier Southern California showcase for vintage military aircraft and automobiles, will host dozens of late-model Ferrari Italian sports cars as part of a "Cars & Cockpits" event scheduled for Sun., May 1, 2011, from 10:30-11:30 a.m. at the facility, located on the west side of the runway at John Wayne Airport in Orange County. (NOTE: Weather permitting).
Ferrari S.p.A. is an Italian sports car manufacturer based in Maranello, Italy. The elegant Ferrari automobiles on display at the Museum will be driven by members of the Ferrari Owners Club (FOC), FCA SW Region, based in Huntington Beach, Calif. Ferrari owners will be bringing in their cars from across the region. Various types of Ferraris will be shown, including the 458 Italia, 599GTB Fiorano, 599GTO (Grand Turismo Omologato), 612 Scaglietti, California and F430
"This special event has a definite excitement factor because it presents Museum visitors with an exceptional opportunity to view some of the rarest of the fabulous vintage Ferrari sports cars in pristine condition," said Mark Foster, president of Lyon Air Museum.
Tex K. Otto, FOC Southwest Regional Director, estimated that 40-50 vehicles will be on hand.
"Ferrari has been producing cars for road and track for more than sixty years, combining passion, design and technological perfection," Otto said. "Anyone who comes to the Museum on Sunday will be able to get that incredible Ferrari experience firsthand."
The 30,000-sq.ft. Lyon Air Museum opened in Dec. 2009. The facility represents the fulfillment of a dream of Maj. Gen. William Lyon, USAF (Ret), who held the position of Chief of the U.S. Air Force Reserve from 1975 to 1979. Currently, Gen. Lyon is Chairman of the Board and CEO of William Lyon Homes, Inc., Newport Beach, Calif. His passion for aviation history and youth education is the driving force behind Lyon Air Museum. In establishing the Museum, Gen. Lyon sought to create a world-class facility that would be available to the local community and would offer educational exhibits designed to inspire young people. The Museum has on exhibit some of the world's rarest operational aircraft and vehicles.
Lyon Air Museum is located at 19300 Ike Jones Road, Santa Ana, CA 92707. P: 714/210-4585. F: 714/210-4588. Email: info@lyonairmuseum.org. Hours of operation are daily from 10 a.m. to 4 p.m. Admission rates: General admission–$8; Seniors and Veterans–$6; Ages 5-17–$4; Under age 5—Free. Groups of 10 or more–$1 off each visitor. Pre-arranged school groups—Free.
On the first Sunday of each month, Lyon Air Museum hosts a different automobile "club" for a morning of cars and cockpits. Vintage, exotic, and otherwise very rare vehicles line the museum parking lot for a casual grouping and viewing. The car events are FREE to the public for viewing, and there's coffee and breakfast snacks available for purchase. Lyon Air Museum is open during the car events, with several rare vehicles on display along side the fully-operational bombers and war-time aircraft.