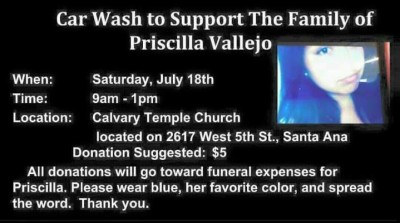 The family and friends of Priscilla Vallejo, the 13-year-old who was killed this week when she was hit by an SAUSD truck while she was riding her bike, are hosting a car wash today, Saturday, July 18, 2015, from 9 a.m. to 1 p.m., to help raise funds to pay for her funeral expenses.  The car wash is being held at Templo Calvario Church located at 2617 W. 5th St., which is near Fairview, in Santa Ana.
Supporters are asked to donate at least $5 and wear blue, her favorite color. Yesterday by the way would have been Priscilla's 14th birthday.  Her Facebook page notes that studied at Mendez Fundamental School, in Santa Ana.
Friends said Priscilla Vallejo rode her bike for the fun of it. They described her as a jokester, the type of teen who held others up even if she was down. "She was the type of person who was fun to be around," said Jasmine Gutierrez, a friend. "She would focus on her studies, but she was fun to be with, according to NBC News.
The driver of the box truck that fatally hit a 13-year-old girl on a bicycle on Monday morning will not be cited or arrested, Santa Ana police said Tuesday, according to the O.C. Register.
According to investigators,  the driver, who has not been identified, was traveling southbound on Center Street and made a right turn on westbound Edinger Avenue, while Priscilla rode straight across West Edinger Avenue, in a crosswalk. The driver turned right and ran her over.  She was not wearing a bike helmet.
Many in the community are calling on the SAUSD to provide crossing guards at key intersections during summer school hours.  The SAUSD fire a number of crossing guards at the start of last school year, which set off an uproar among parents, in a city rife with fatal accidents between vehicles and both pedestrians and bicyclists.
At the very least the SAUSD should be paying for Priscilla's funeral!  I am sure they don't want to admit guilt but it would be the right thing to do.
The Vallejo family and friends are also hosting a Kermes (a charity fundraiser which usually includes food and games for the kids and music) this Sunday, July 19, 2015, at 332 W. Halesworth St., in Santa Ana, which is nearby the El Sol Science & Arts Academy of Santa Ana, according to Rosa Salgado-Duenas' Facebook page.  The Kermes starts at 9 a.m.  The organizers have asked for help with food donations and food preparation.