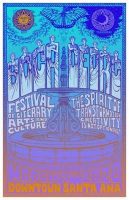 SANTA ANA, CA – The Boca de Oro (Mouth of Gold) Festival of Literary Arts & Culture returns for its fourth year this Saturday, March 7, to downtown Santa Ana with free writing and arts and crafts workshops, panel discussions, author talks and performances.
The event, which will take place from 10 a.m. to 10 p.m., brings 100 authors and poets and 3,000 visual and performing artists to downtown. This year's theme, "The Spirit of Transformation" with the nine Greek muses, was illustrated in a stunning poster by Santa Ana illustrator and artist Barbie Godoy.
With an expected attendance of 7,000 people – many of whom are families with young children – Boca de Oro has expanded its programming with a K-5 Arts Festival put on by Oasis Center International and a Scholastic Book Fair at Birch Park. Santa Ana College is presenting big band performances, children's theater, poetry readings, as well as theater and media arts. Visitors can ride a complimentary trolley to visit the various locations hosting performances across all creative disciplines in literature, dance, theatre, speech and music.
The Santa Ana Business Council and Santa Ana Unified School District are the lead organizers of Boca de Oro, in partnership with Santa Ana College and the City of Santa Ana. The nonprofit group Community Engagement has been a sponsor for the past two years, and new partner Oasis Center International has joined this year.
The Santa Ana Elks Lodge, which also is providing a sponsorship, will do a reading at the festival and will give out 150 free books to children. Newport Friends of the Library donated books that will be given away for a dollar a bag at the West End Book Fair.
Among the many authors on hand is Keynote Speaker Zara Raheem, author of "The Marriage Clock" – named a "must-read book of the summer" by Cosmopolitan, POPSUGAR, Bustle and Book Riot. Festival attendees also will have the chance to meet and hear from Cuban poet Susannah Rodriguez Drissi; Marytza Rubio, founder of the Makara Center for the Arts; and Hugo Award winner Foz Meadows, along with many other inspiring local, regional and visiting authors.
A Boca de Oro app will be released on iTunes and GooglePlay so everyone can discover, plan and track events.
For more information, please visit www.BocadeOro.org, on Facebook at www.facebook.com/bocadeorofest and on Instagram @BocadeOroFest.