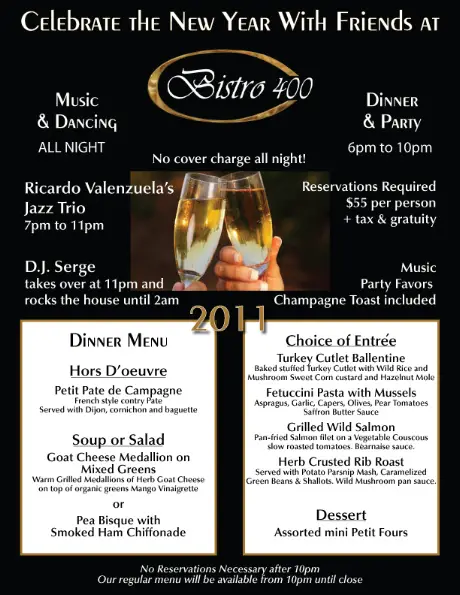 Bistro 400 has announced their 7th Annual New Year's Eve Party, which will start on Friday, December 31 at 7:00pm, and conclude on Saturday, January 1, 2011 at 2:00am.
7p to 11 pm
Vocalist & Keyboardist Ricardo Valenzuela with Los Angeles & Orange County's Award Winning Drummer Michael Brucher & Saxophonist Jeff Jorgenson
11p to 2a DJ Serge
The New Year's Eve Dinner Menu is available from 6pm on…
Their regular menu is available from 10 pm on…
Dinner and party – $55 per person + tax and gratuity.
Music, Party Favors and Champagne Toast included
• No cover charge all night •
Reservations are required to reserve a table for Dinner
Bistro 400 offers extraordinary food, in an intimate setting that provides casual elegance along with refined hospitality.
Located at 400 N. Broadway, in Santa Ana's historic downtown district, the Bistro offers a contemporary dining experience that is as colorful as its art enriched surroundings.
There is plenty of FREE parking on the Birch Street Parking Garage (just East of 4th).
Click here to RSVP on Facebook.