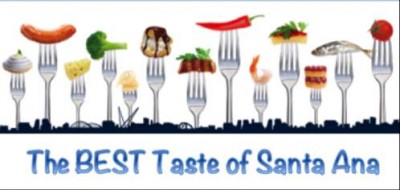 For the very first time, the Assistance League of Santa Ana is organizing the Best Taste of Santa Ana, a huge fundraising festival in Downtown Santa Ana, set for Sunday, July 20
from 3:00 pm – 7:00 pm.
Between 20 – 30 of the hottest local Santa Ana restaurants will be distributing samples of their delicious food.   This wonderful event will take place on Fourth Street between Birch and Ross in Downtown Santa Ana from 3:00 PM – 7:00 PM.  It will be open to the public, so be sure to find your favorite restaurant's booth to sample some of their most popular dishes.  Online ticket sales are now available – the ticket price will increase as of July 1!
Participating Restaurants and Beverage Vendors:
Alova Waters
Applebee's
Buffalo Brewery
Breakaway Lounge
C 4 Deli
Chapter One
Civic
Crave
Curry House
Diego's
Dirty Tequila
Famous Dave's Barbecue
Jason's Catering
Jerry's Dogs
Ketri
Mother's Market
La Chiquita/Green Parrot
Latino Access
Lola Gaspar
Novamex
Original Mike's
Pico De Gallo
Polly's Pies
Rebel Ale's Brewing Co.
Red Robin
Simon's Bakery
Starbucks
Tabu
The Little Sparrow
The Playground
Ye Olde Ship
About the Assistance League of Santa Ana
In 1935, a group of women met in the home of Katharine Irvine to begin a journey of helping young people in the greater Orange County area. That first meeting and many that followed led to the formation of Orange County's first chapter of Assistance League. Today over 2750 children, teens and seniors in Santa Ana receive help from Assistance League of Santa Ana. With over 450 volunteers of all ages, Assistance League Santa Ana continuously serves the greater Santa Ana community since 1935 without issue of race, creed, or belief. It is our greatest motivation to help children and their families help themselves. Through programs of subsidized dental care, free eye exams and glasses, school uniforms and supplies to elementary students, gifts to seniors, support to college students through mentoring and scholarship… members actively make a difference.
Assistance League is a nonprofit corporation integrated in the community whose support comes from the community and stays in the community.