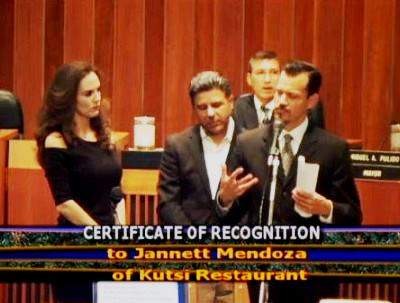 Disgraced former Santa Ana Councilman Carlos Bustamante returned to the City Council Chambers at this Tuesday's City Council meeting, where he was warmly welcomed by his old friend, Councilman David Benavides.
Bustamante and Benavides have been friends for year although they hail from different political parties.  Bustamante is a Republican and Benavides is a Democrat.  They flew to Washington DC together a few years back when then President George W. Bush invited Bustamante to a Cinco de Mayo celebration for the GOP.  Lord knows what those two did while their wives were back home!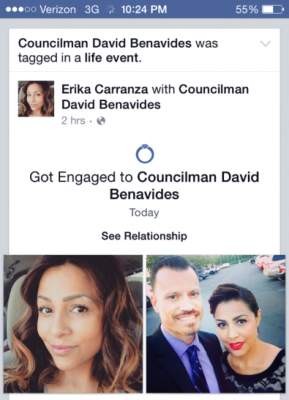 Today both men are divorced from the women who stood by them as they crafted their political careers.  Bustamante's wife dumped him after  he was charged with felony sex crimes against several women that he used to work with at the County of Orange.  Benavides separated from his wife, who is a schoolteacher in Santa Ana, during his failed Mayoral campaign against Mayor Miguel Pulido back in 2012.  Bustamante supported Benavides' failed Mayoral campaign but Benavides lost that election by 12,097 votes according to Smart Voter.  Benavides found a new wife this year when he got engaged to Erika Carranza, one of his City Commissioners.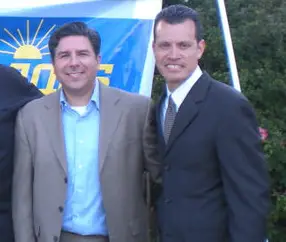 Bustamante returned to the Council Chambers on Tuesday night with his client, Jannett Mendoza.  She is the 33-year-old owner of Kutsi Restaurant, which replaced the Memphis Cafe in DTSA.  Mendoza was recognized at the Council meeting for her restaurant's grand opening – which is set for some time in September.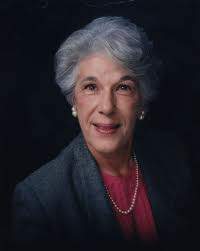 It is not unusual for former City Council Members to become paid consultants after they leave the City Council.  Former Councilwoman Pat McGuigan did that for years.  It speaks to how difficult it is for an ordinary businessman to get permits from the city's Planning Department.  Sadly our city administrators have done very little to make this city more business-friendly.
However Mendoza must not know Bustamante's history.  Or she just doesn't care.
Benavides was apparently very happy to welcome his old comrade back to the Council Chambers. "It's great to see you," Benavides told Bustamante, "And great to have you back in the house."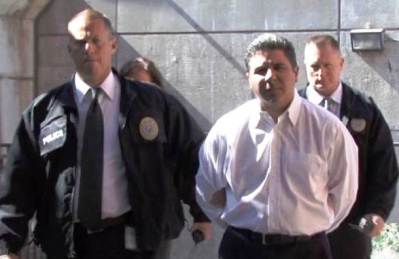 This could be a bad move for Benavides who reportedly wants to run for Mayor again in 2016.
As for Bustamante, his criminal trial – in which he faces two felony counts of false imprisonment, and single counts of stalking, attempted sexual battery and grand theft – is scheduled to begin Sept. 25, according to the Voice of OC.
Bustamante is also a part owner of Wursthaus, a sausage restaurant in DTSA.  If he beats his charges I expect he will be more visible there as he tries to convince the people of Santa Ana to eat his sausage.