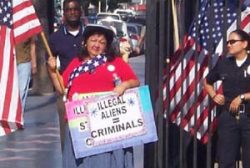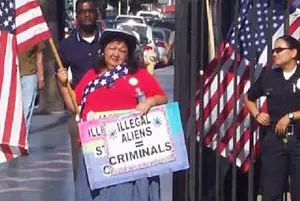 The fallout from Councilman David Benavides ill-fated attempt to honor folks associated with known hate groups at Monday evenings city council meeting continues.  According to my sources within city hall when Benavides was confronted by felow councilmembers angry about his decision to honor individuals with ties to anti-immigrant groups and the "birther" movement he claimed that he was not aware that those people were being honored.
I am told the Benavides said he was only planning on honoring Anne Menaldo with a certificate of recognition at Monday's meeting and that city staff was to blame for the others being included.  So does that mean that Benavides had plan to snub neighborhood activists like Steve McGuigan, Ann Coil and Fred Bella who were involved in the planning of the event? 
Like a petulant child taking his ball and going home, Benavides left the council meeting before the business calendar began because he was angry that the rest of the council would not go along with his honoring of folks like known "hater" Lupe Moreno and "birther" Anita Hynds who on her Facebook page calls President Barack Obama an "illegal alien".
All of this raises questions as to Benavides competence to serve the residents of this city.  If he cannot get things in order in regards to the awarding of a simple certificate of recognition can we really trust him to be prepared to make the important decisions facing the city council?  And if he is going to sulk and walk out of meetings when he doesn't get his way and thus leave the residents of Ward 4 without any representation does he deserve to be there at all?
It is rumored that Benavides wants to run for the 69th Assembly District seat when Jose Solorio is termed out in two years however this latest misstep surely will not help him in that bid.  The residents of the 69th need a leader in Sacramento that we can count on to be informed and who is willing to take responsibility for their mistakes.  This week Councilman Benavides has shown us that he is not that person.