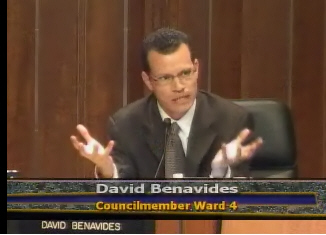 Orange County's "First Responders" Back David Benavides for Mayor
Earns Support of Police, Sheriffs and Firefighters Based on No-Nonsense Attitude Toward Public Safety
Santa Ana, CA– Applauding his commitment to public safety throughout his career in public service, the Orange County Coalition of Police and Sheriffs (OC COPS) and the Orange County Professional Firefighters Association, IAFF Local 3631 announced their support of David Benavides for Mayor.
"On the City Council, David has worked to increase the safety and quality of Santa Ana's neighborhoods by providing law enforcement with the tools they need to fight crime on all fronts," said Kerry Condon, Chairman of OC COPS, that represents the collective voice of thousands of sworn public safety officers serving throughout Orange County. "His no-nonsense attitude toward crime and criminals throughout his career in public service has earned our trust and respect."
"Our backing of David is based on his proven record of protecting Santa Ana residents and making public safety his highest priority," said Tony Bedolla, Director of Governmental Affairs for the Orange County Professional Firefighters Association that represents more than 950 professional firefighters that provide regional fire protection to 23 cities and 1.5 million citizens in Orange County. "Our support is hard-earned and well-deserved. We know David will continue to be a leading voice in support of firefighters and law enforcement personnel as we work hard to keep families and neighborhoods safe."
David is currently a member of the Santa Ana City Council, serving on its transportation, public safety committee and neighborhood improvement committees. Throughout his professional career he has served the community, founding two neighborhood associations and working as the director of KidWorks in Santa Ana.
"I am honored to have the support of these brave men and women," said David, who earlier won the support of the Santa Ana Police Officers Association. "As Mayor, one of my first duties is to keep Santa Ana residents safe. Together, we will continue our fight to keep our streets free of crime."
David's campaign to move Santa Ana forward has earned several major endorsements, including a majority of the Santa Ana City Council; Councilmembers Michele Martinez, Vince Sarmiento and Sal Tinajero. He also has the backing of Santa Ana Unified School District Trustees John Palacio and Roman Reyna and Rancho Santiago Community College District Trustee Mark McLoughlin.
###