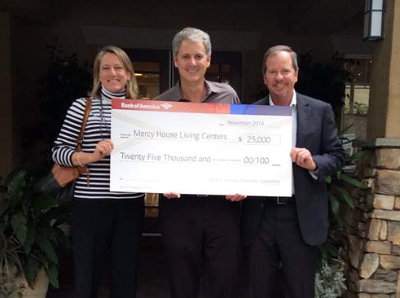 Photo Credit: Mercy Housing Living Centers
December 3, 2014
Reporters May Contact: Alyssa Tran, (310) 854-8270, atran@webershandwick.com
Bank of America Charitable Foundation Awards $222,600 in Grants to 16 Orange County Nonprofit Organizations
Grants will help individuals with basic human services and build better financial lives
ORANGE COUNTY – The Bank of America Charitable Foundation today announced $222,600 in grants to 16 nonprofits in Orange County to help individuals and families build better financial lives. These grants will support the fight against hunger, access to housing and other basic human service initiatives that help communities thrive.
Basic human services, along with community and workforce development are top priorities because there is significant need in these areas in Orange County and across the country. According to the nonprofits grantees, more than 370,000 individuals will be impacted by the funding that serves low and moderate income residents.
"When the people of Orange County have access to affordable housing, jobs, and basic nutrition, Orange County succeeds," said Allen Staff, Orange County market president, Bank of America. "We are working to provide access to basic human services because we know it's a critical part of helping people start down a path to financial stability while meeting their immediate needs."
One nonprofit receiving a grant is Mercy Housing Living Centers who will be utilizing the funding to help support its system of care for the homeless. "Bank of America's long-term support of our agency and its leadership in advocating for the homeless is a tremendous asset to our community and the clients we serve," said Larry Haynes, executive director of Mercy Housing. "Their support of our entire Continuum of Care demonstrates a commitment to making 'deep' investments with high impact. They understand what it takes to move the needle toward ending homelessness. "
The local organizations that are receiving funding are:
· 2-1-1 Orange County
· Camino Health Center
· Community Action Partnership of Orange County
· Families Forward
· Gay & Lesbian Community Services Center of Orange County (Center OC)
· Human Options, Inc.
· JF Shea Therapeutic Riding Center Inc.
· Laura's House
· Mercy House Living Centers
· Olive Crest
· Orangewood Children's Foundation
· Orange County Rescue Mission Inc.
· Project Access Inc.
· Second Harvest Food Bank of Orange County Inc.
· South County Outreach
Bank of America Corporate Social Responsibility
Bank of America's commitment to corporate social responsibility (CSR) is a strategic part of doing business globally. Our CSR efforts guide how we operate in a socially, economically, financially and environmentally responsible way around the world, to deliver for shareholders, customers, clients and employees. Our goal is to help create economically vibrant regions and communities through lending, investing and giving. By partnering with our stakeholders, we create value that empowers individuals and communities to thrive and contributes to the long-term success of our business. We have several core areas of focus for our CSR, including responsible business practices; environmental sustainability; strengthening local communities with a focus on housing, hunger and jobs; investing in global leadership development; and engaging through arts and culture. As part of these efforts, employee volunteers across the company contribute their time, passion and expertise to address issues in communities where they live and work. Learn more at www.bankofamerica.com/about and follow us on Twitter at @BofA_Community. For more Bank of America news, visit the Bank of America newsroom.
www.bankofamerica.com
# # #