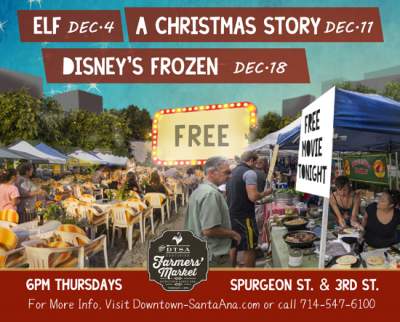 Free Movies at the Market – Holiday Films outdoors on the big screen every Thursday at 6pm, this December
Come to the Downtown Santa Ana Farmers' Market for farm-fresh food, snacks and a family movie!
Starting tomorrow, December 4, 2014, the Santa Ana Farmers Market is showing classic holiday films under the stars: "Elf," "A Christmas Story" and Disney's "Frozen," in partnership with Downtown's The Frida Cinema.
Cozy up with family, friends and your community! The Farmers' Market will be open during the movie and features amazing vendors: nuts, roasted corn, Santa Ana baked breads and a special food truck. Grab a delicious treat and enjoy a great show.
Visit Movies at the Market for more info.
Presented by Downtown Inc. in partnership with The Frida Cinema and the Downtown Santa Ana Farmers' Market. E-mail info@downtown-inc.com to help support Movies at the Market.